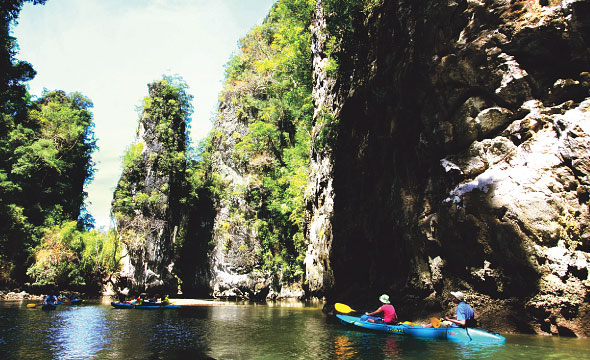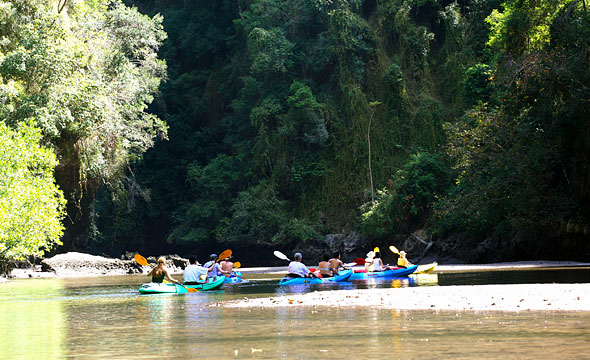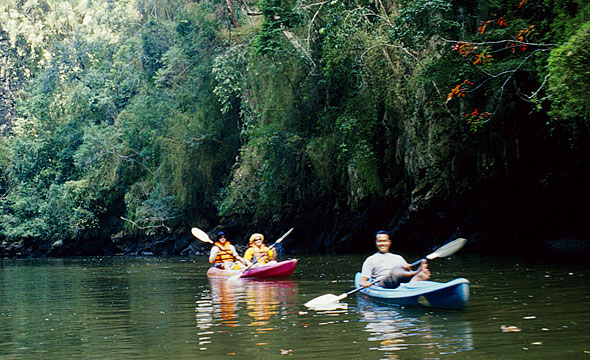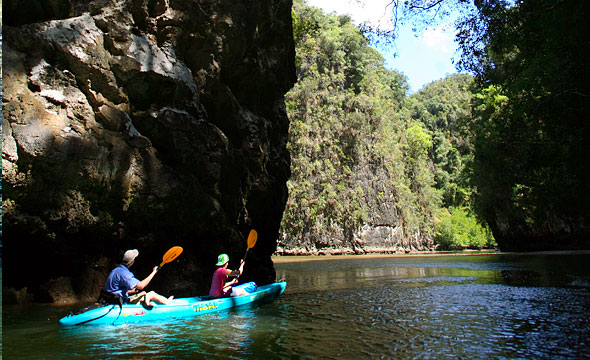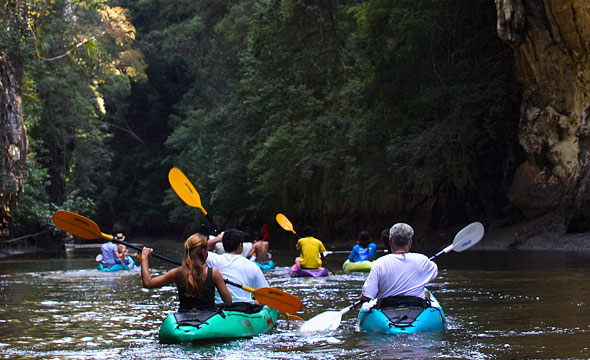 Kayak with a Green Heart, Visit the World-class Ecotourism
Ao Tha Len
Travel Info
Located in the Ao Tha Len area, Tambon Khao Thong, From Krabi town, take Highway 4 for 20 km and then 4033 for 15 km.
GPS Location
N8° 9.251', E98° 47.216'
Contact
TAT Krabi Office


+66 7562 2163
+66 7561 2812
Facilities & Services
Tour guide, kayak, long-tail boat, food and restroom.
One of the things that makes Tha Len Bay so interesting for kayakers is the path being windy and easy to paddle since the water is calm without any interference from the waves. There are 2 paths to explore Tha Len Bay: The first path is a longer trip with a distance of more than 7 km The second path is 4 km You would be travelling in a circle inside the abundant mangrove forest. Sometimes the sea water might look like there is this film of oil over it, unlike the clear water outside the lagoon. It is known that the film of oil is caused by the process of changing salt water into fresh water done by the roots of the mangrove trees. With this special ability, the mangroves are able to survive in salt water.
As you go further along the path, it starts to narrow down and the mangrove trees start to turn into limestone cliffs. This means you are about to reach the strait called "Canyon"; the most beautiful view- point of Tha Len Bay. The atmosphere in the front of the cliffs has a view of mountains building up complex structures over each other throughout the whole path. This makes the sea in the area look like it is being separated into many large rooms also called "lagoons". The view is so breathtaking that it would make you forget about how tired your arms are after all the paddling.
Know Before You Go
"Most day-tour packages includes a transfer from/to your hotel and a lunch."
Fun Facts
"Sailors would use these lagoons as a refuge from the times of heavy rain. The limestone cliffs would protect them from the strong winds. One example was the Tsunami incident that occurred in 2004. Tourists that were in this place at that time were safe from the tragic incident."