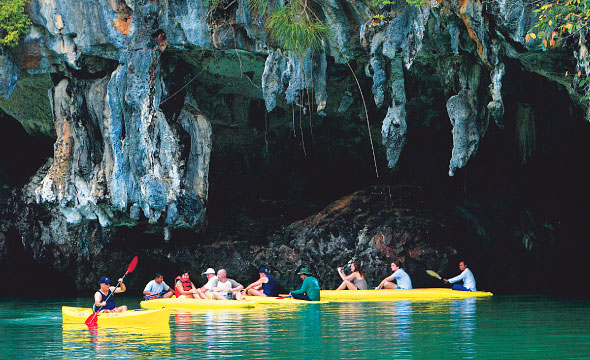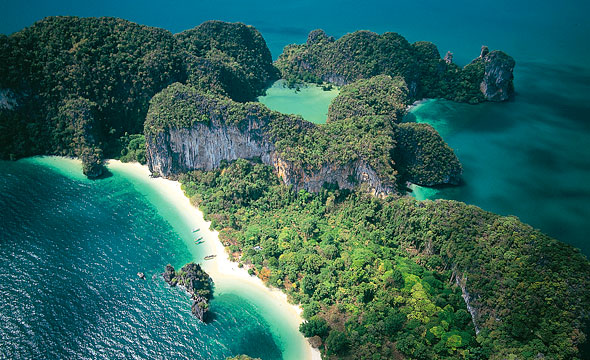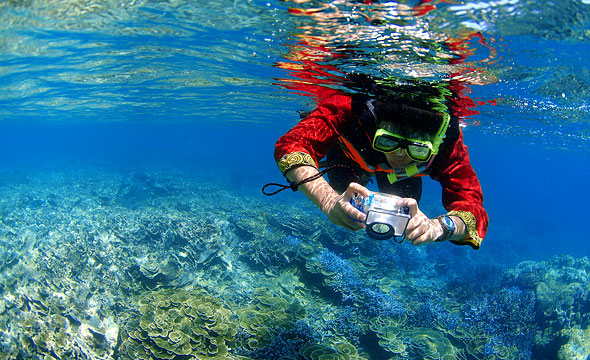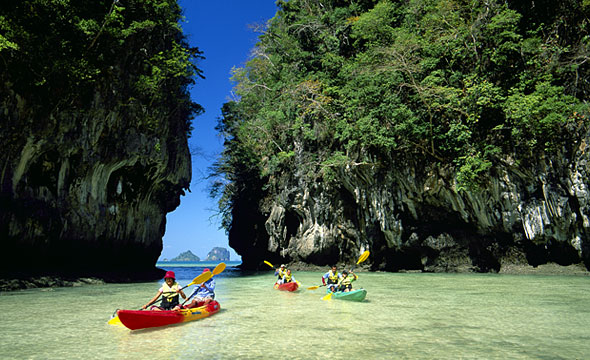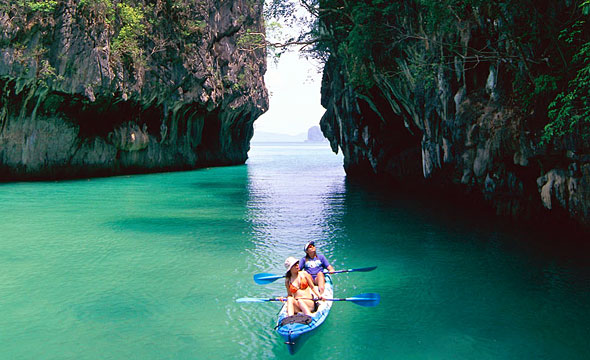 One of the Best Sea Kayaking Paradises
Mu Ko Hong
Travel Info
From Krabi town, take Highway 4204 then continue on Highway 4203 to Phra Nang Bay where you can take a boat to the Hong Islands. The long-tailed boat ride takes about 1.5 hours (but only 40 minutes by speedboat).
Google Geocode
8.078605,98.678498
Contact
TAT Krabi Office


+66 7562 2163
+66 7561 2812
Facilities & Services
Guides, boats, kayaks, souvenir shops, restrooms, and camp site.
Hong Islands also called "Lao Bi-le Islands" is a very popular destination for nature lovers, especially kayakers. It is a limestone island with a hollow centre and is surrounded by the clear water of the ocean like a great hall. With its unique characteristics of an "Inland Sea", it is a chest-deep giant swimming pool free of wave when the tide is high; at low tide it is a broad sandy tidal flat covered in five-pointed sea stars.
The best eco way to experience the magic of this site silently is through paddle power instead of a long-tail boat. Paddling in when the tide is high. You can also paddle into the crevice that will take you to the lagoon or "Inland Sea".
Moreover, the outstanding topographic features, the southeast beaches, the lagoon, and the sheer walls of limestone on the
island, there are other attractions. Secluded cover leads to hidden caves; there is also "Lao Lading Island", a bird-nest gathering site where you can also enjoy shallow coral reefs around the island by snorkelling with many little colourful fish or go sunbathing on a white sandy beach.
Know Before You Go
"The join-one-day trip is not suitable for travellers who want to spend a large part of the day kayaking, as it includes less than 2 hours of kayaking."
Recommendation
"Purchase a full-day or half-day travel package as it is more convenient, cheaper and wastes less fuel. They will provide you with transport from/to your hotel, lunch, and a guide."
Please
"Do not litter. Dispose of trash only in places provided."