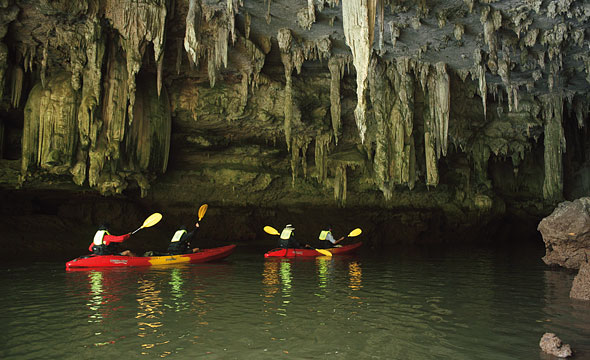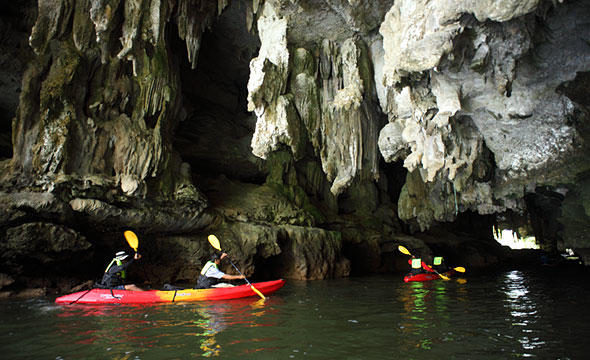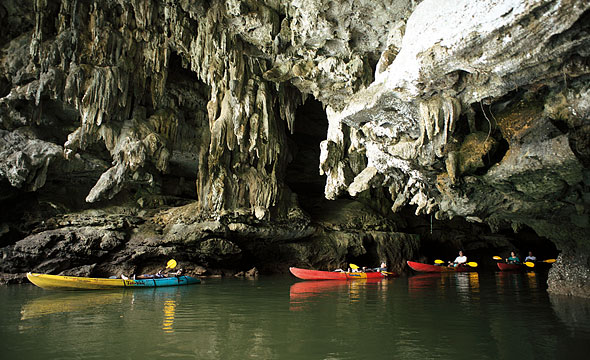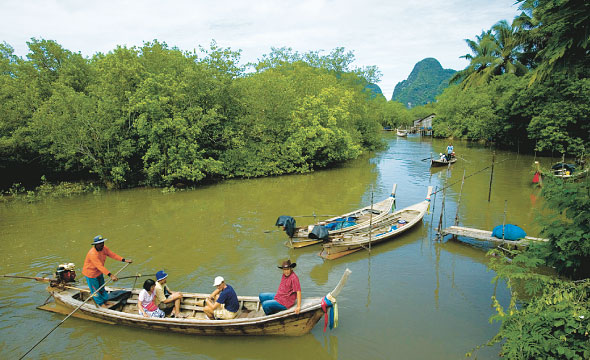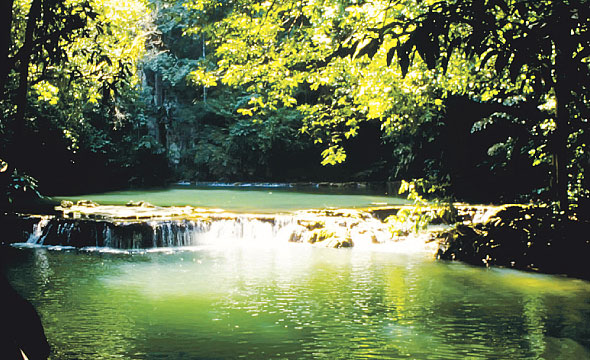 Kayaking through the Mangrove Forest Explore Ancient Caves
Ban Bo Tho
Travel Info
From Krabi town, take Highway 4 towards the Ao Luek area. Turn left at the entrance of Ban Talat Tai and follow the signs to Tham Phi Hua To.
GPS Location
N8° 23.423', E98° 44.015'
Contact
Sea Land & Trek


+66 7563 7364
www.krabisealand.com
TAT Krabi Office


+66 7562 2163
+66 7561 2812
Facilities & Services
Tour guide, kayak, restroom, food, parking and transfer service.
Before you jump into a kayak to discover the mysteries of this waterway, there will be a short introduction to basic kayak control. The stream of Khlong Bo Tho is calm and still because it is an inland sea, making it a popular destination for tourists year round, especially during the monsoon season. On this trip, you will depend on your two hands to paddle through the winding waterway of the mangroves onward to "Tham Phi Hua To" (or "Big Skull Devil" Cave). Among prehistoric cave paintings found scattered on the cliffs, as evidence of human settlements in this area a thousand years ago, the most remarkable frames for all visitors include a human figure wearing a top hat, a human being with an animal head and horns, wholly painted in red resembling an alien, and two hands imprinted on the cave ceiling, with one hand having 6 fingers. There is also a phoenix – like creature about to take flight. All these pose more questions about the traces of humans in the prehistoric wall paintings.
Then you paddle back by passing "Tham Lot Nuea" cave. Visit and see beautiful stalactites and stalagmites before reaching the shore and having lunch cooked by the local villagers. If there is spare time on the way back, you can stop by at the Phu Thara waterway and wash up. Enjoy the glass-like clearness of the water that has flowed from mountain streams or explore the surrounding area. You can also stop for a trek at Than Bokkhorani National Park.
Know Before You Go
"The ancient sea tribes believe that when their ancestors die, they take the form of birds that will protect them and warn them of danger. They also believe in heaven and hell. When someone passes away, a bird will take the spirit up to heaven using a boat. The cave is used for traditional ceremonies according to their belief system and has been used continuously for a long time."
Recommendation
"Bring a change of clothing because perhaps you get wet. It is recommended to arrive at Ban Bo Tho before 9.00 a.m."