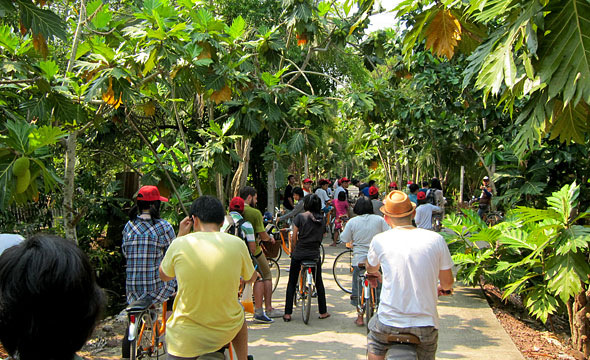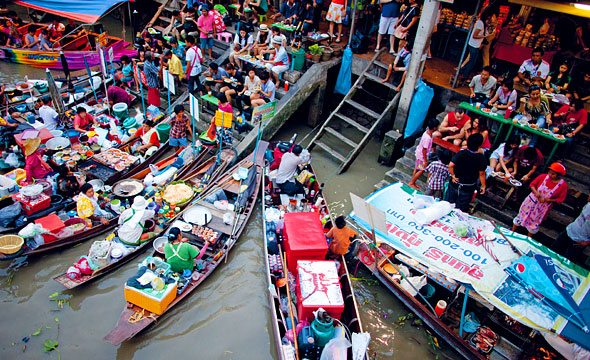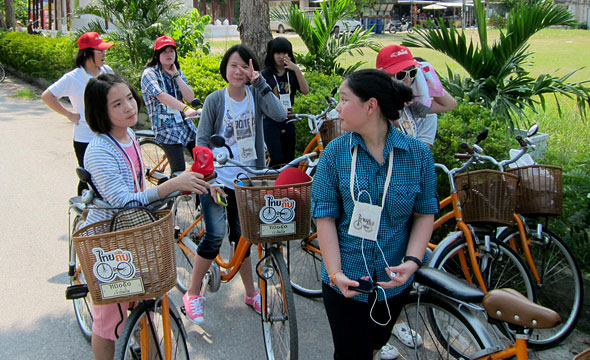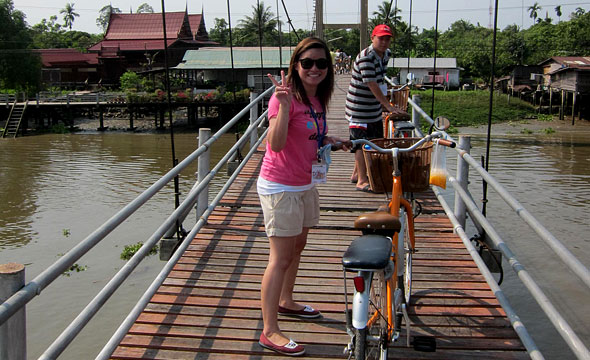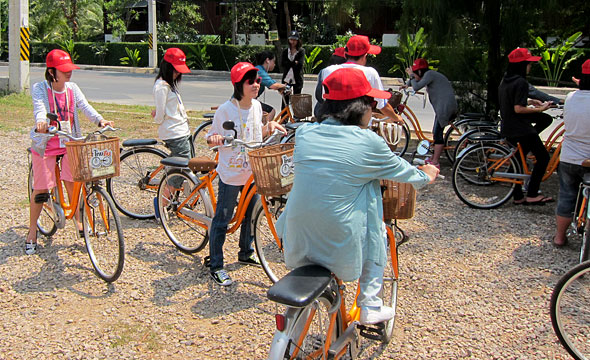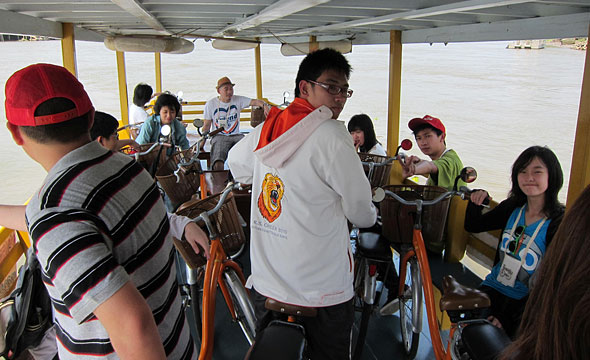 Explore Another Dimension
of Amphawa by Bicycling
Amphawa
Travel Info
From Bangkok, take Highway 35 heading towards Samut Songkhram and turn right into Highway 325 at the Mae Klong 3-way junction. Continue straight pass the city following the signs "Amphawa Floating Market". You can also take an air-conditioned van from Victory Monument.
GPS Location
N13° 25.561', E99° 57.504'
Contact
Thai Biking Station


+668 2777 5999
www.facebook.com/Thaiteeb
Facilities & Services
Rental Bicycles, restrooms, souvenir shop.
Enjoy the adventure of travelling at Amphawa with the new mode of transport of bicycling! Help lessen pollution and heal climate change. It is also the way to truly experience the local way of life. The bicycle route is about 10 km long with Thai Biking signed to navigate you all the way. Stop by the "Museum of Thai Desserts". Then bike to "Orchid Farm" to watch the demonstration of the process of making coconut sugar and drink fresh sugarcane juice from the farm before taking your bike across the river on a ferry to "Wat Bang Nang Li". Then visit "Wat Phummarin Kudi Thong" and the House of Thai Instruments. Afterwards travel to "Wat Bang Khae Yai Nai". Look at the artwork on the walls, painted during King Rama II's reign, within the monastic cloister and the Ho Trai (also known as the temple library). Also "Wat Bang Kung", one of the Unseen Thailand, is miraculously covered by the branches of four large trees, all being attractions, a different species of banyan, including the Bodhi tree. End the trip with a ride across a suspension bridge to experience the Amphawa Floating Market in the evening. You can spend time here shopping for cute souvenirs and taste the delicious food before dropping off your bicycle at the Thai Biking Station.
Know Before You Go
"When you rent your bicycle from Thai Biking you will receive a map showing you 2 cycling routes. Throughout the routes there are bicycle parking areas at various points of interest."
Recommendation
"Don't forget to get on a boat and go look for fireflies before you leave."
Open Hours
"Monday, Thursday, Friday 2.00 p.m. – 6.00 p.m. Saturday, Sunday 8.00 a.m. – 8.00 p.m. (Closed on Tuesdays and Wednesdays)"
A Deeper Look
"You may feel tired after 3 – 4 hours of bicycling, but when you think of all the places visited it is worthwhile because you will get to see another side of Amphawa not just simply the floating market."