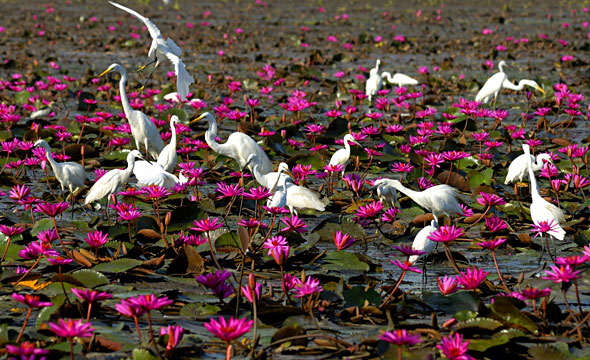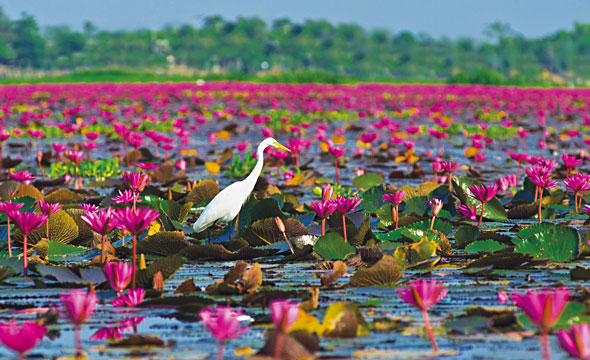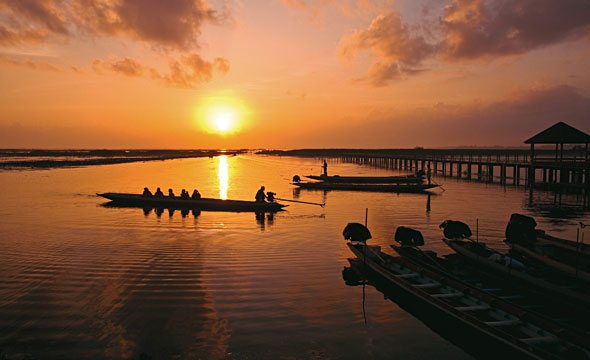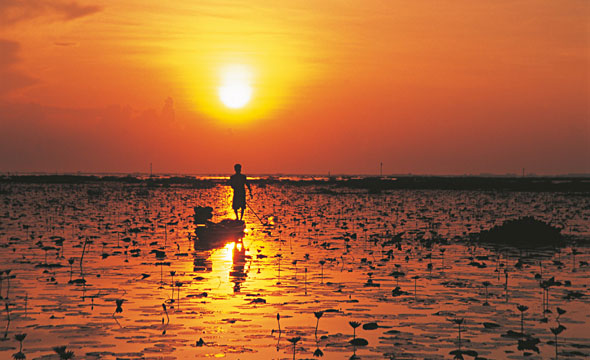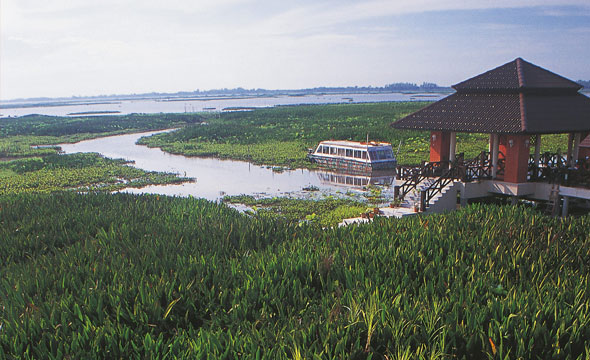 Boating on the Bird Watcher's Paradise
Thale Noi
Travel Info
From Phatthalung town, take Highway 41 to Khuan Khanun District. Then turn right to Highway 4048 and drive along around 32 km to Thale Noi Lake.
GPS Location
N7° 47.531', E100° 6.242'
Contact
Thale Noi Non-hunting Area, Department of National Parks, Wildlife and Plant Conservation


+66 7468 5230
TAT Hat Yai


+66 7423 1055
Facilities & Services
A restaurant, restrooms, parking, and boat for rent.
Wide lagoons interconnect to make up Songkhla Lake. The ecosystem here is so healthy, it has been announced as a Ramsar Site by the International Union for Conservation of Nature or IUCN.
The Thale Noi Non-hunting Area or what locals call "The Thale Noi Waterfowl Park" is filled with about 178 species of birds. Local birds that stay here all year round, as well as migrating birds will all be on display in the cold season. Another attraction of this area is the many types of beautiful lotus that bloom during the summer. Some of the types of lotus that can be found here are the Scarlet Rose Mallow, White Water Lily, and the Sacred Lotus. As you cruise here not only will you float among the beautiful lotus and the cute birds, but you will also get to see the locals at their daily activities; such as, fishing or gathering lotus edible stems. It is a glimpse into a way of life among nature that is difficult to see in this modern world. If you have time, you can take a walk on the wooden bridge that surrounds the district office and watch the easy-going life of the locals.
Know Before You Go
"Thale Noi is at its most beautiful from January to March because the lotus will be in full bloom. The "Bird-watching Cruise Festival" is also during this time as well."
Recommendation
"Fermented Catfish is a must- try delicacy of this area, as well as the fresh prawns and perch that can either be grilled or fried."
Please
"Do not disturb the ecosystem by making loud noises or paddling too close to the birds' habitats."