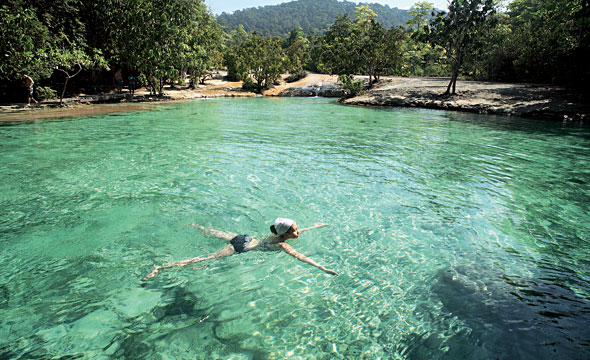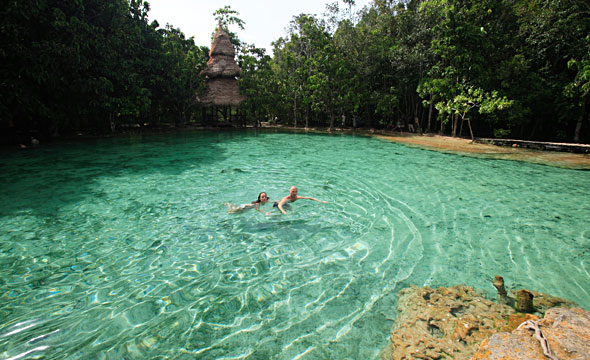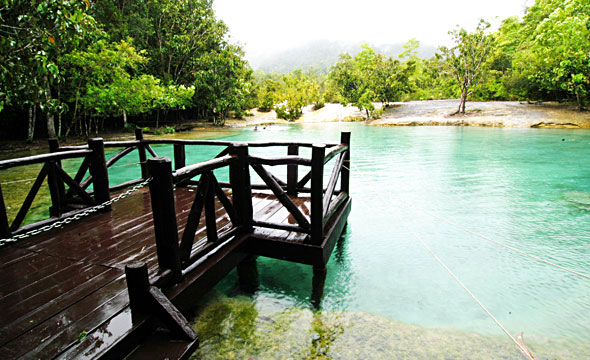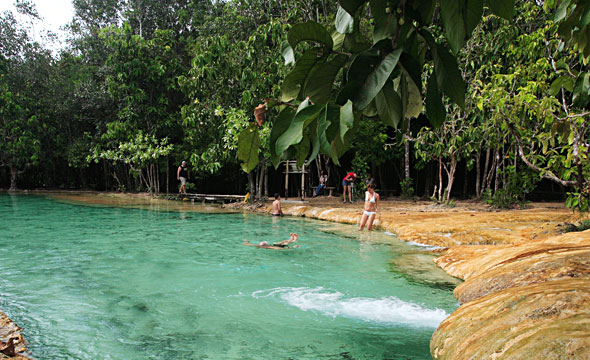 Immerse Yourself in the Green
Sa Morakot
Travel Info
From Krabi town, take Highway 4 southeast toward Khlong Thom District. Turn left onto Highway 4038. Turn right at the junction and follow the signs to the Emerald Pool.
GPS Location
N7° 55 24.16', E99° 15 35.99'
Contact
TAT Krabi Office


+66 7562 2163
+66 7561 2811-2
Facilities & Services
Convenience store, restroom and parking.
If you reach Krabi, one of the places where you must pay a visit for an eco and adventure tour would be the "Emerald Pool" or "Sa Morakot" (in Thai). The wonders of nature has made warm water streams create 4 ponds with water as green as emerald in the middle of the woods located in the alluvial plains.
There are two paths you can take: the first one is to study the nature of the area with the path being a length of 1.4 km. This path might be longer, but it is easier to take since there is a bridge leading you through the pleasant woods surrounded by its greenery. There are also signs that would provide you with some interesting information about the plants along the way. The second path is only 800 m before reaching the Emerald Pool.
"Sa Kaeo" is the starting point for you to visit. It is a large pool with water clear enough for you to see the fish swimming. Walk a little bit further and you will discover the "Emerald Pool" (a 25 m in diametre and 2 m deep hot spring). Since the water in this terrain comes seeping from under the ground and is heated by magma, the temperature of the water is approximately 31-32°C. The water contains a large amount of limestone or calcium carbonate which helps speed up the precipitation of the minerals from the water underneath the rocks. So when the water is touched by the sunlight, it reflects the colour of emerald green. And then you can follow the 500 m elevated wooden trail cutting through the tropical rain forest and primary forest to the Blue Pool, the spot where
the crystal clear water originates from.
A Bird Watcher's Paradise
This is also an ideal source for watching rare wild birds; such as, the Rufous Collared Kingfishers, Black Hornbills and, a bird you should not miss; the Gurney's Pitta, which was once recorded to be extinct for more than 100 years.
Know Before You Go
"Don't drink water from the pools due to its chemical compositions. It is open daily from 8.30 a.m. 5.00 p.m. "
Recommendation
"Bring a change of clothes and a towel."
Please
"Wear a swimsuit when you get into the pool."