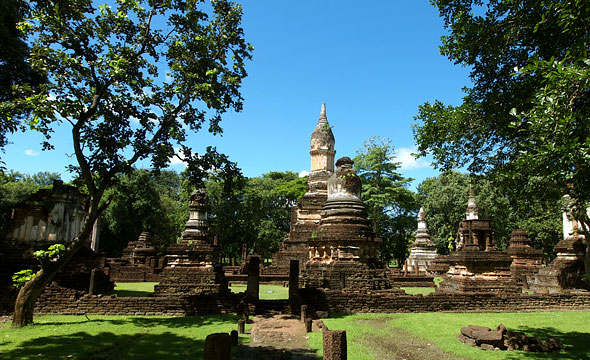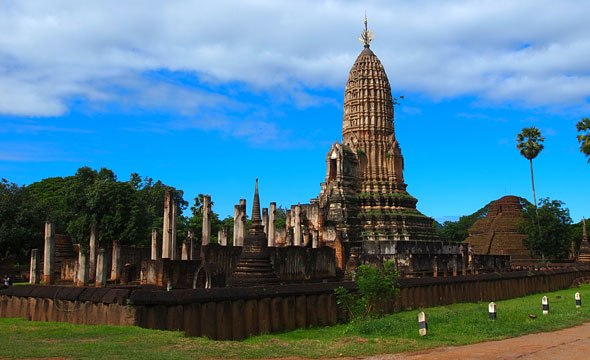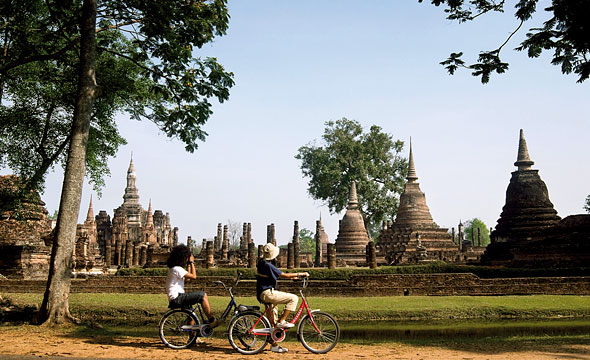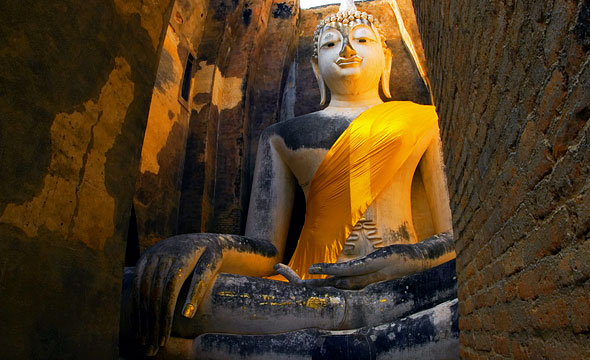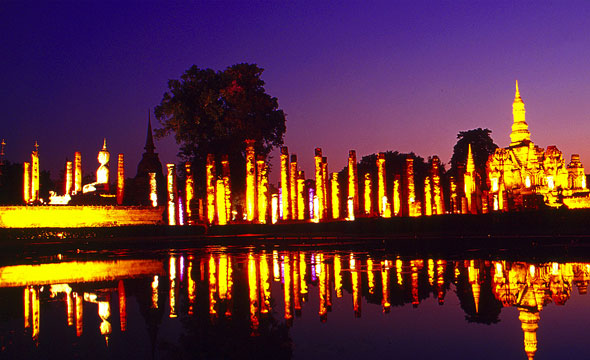 Two Wheels Exploring the Wonders of a World Heritage, the Oldest City
Si Satchanalai Historical Park
Travel Info
From Sukhothai town, take Highway 101 until you reach the km 18 and then take a left turn crossing the Yom River. Then turn right at the junction to the Historical Park.
GPS Location
N17° 31.051', E99° 45.357'
Contact
Si Satchanalai Historical Park


+66 5567 9211
The Legendha Sukhothai Resort


+66 2642 5497
www.LegendhaSukhothai.com
Facilities & Services
Information centre, rental bike, audio tour, restaurant, souvenir shop, restroom and parking.
Before entering the city of Si Satchanalai, be sure to visit the Information Centre to learn the historical information and stories, observe a model of the city as well. Next, you can take a pleasant ride on bikes past the Don Laem Gate and ride along the laterite city wall of Chaliang and you would reach Wat Phra Si Rattana Mahathat a royal temple of the Ratchaworawihan class, where some pieces of Lord Buddha's relics are placed. A distinctive feature is a tall, large and beautiful stupa made of laterite and paved with cement. The walls in the temple's area are decorated by the beautiful faces of Avalokitesvara. Next stop would be Wat Chom Chuen where you can see human skeletons dating from the 4th and 9th century and some Chaliang ceremic ware originating around the 12th century up to the Sukhothai era. A little further would be Wat Chao Chan, which is an ancient remain believed to be older than the city of Sukhothai itself because the stupa was formed using laterite stones influenced by ancient Khmer art, plus, researchers discovered many historical evidences buried since the 7th-13th century. The next place is Wat Noi, this is where King Vajiravudh (Rama VI) used as a resting place during his travel to Si Satchanalai. What is strange about this temple is that every ancient building in this area is miniaturised; such as, a cone stupa of about 2 m high.
Next, ride your bicycles further to Wat Chedi Chet Thaeo which is a temple where the ashes of Si Satchanalai's royal family are being kept and is also the most beautiful temple in Sukhothai. Up next, take a look at stucco work from the major craftsmen of Si Satchanalai at Wat Nang Phaya, a 7-roomed temple made out of laterite stones. The interior is beautifully decorated with ceramic and stuccos. Further on, you will reach Wat Chang Lom, the highlights for this temple is a large spherical pagoda with the base surrounded by 39 oversized stucco elephants facing out of the wall, giving a warm greeting to the visitors of the temple. Riding a little further, you would reach Wat Khao Phamom Phloeng. According to the annals, it is believed that this temple was the centre of which built the city of Si Satchanalai. If you take a walk far enough to sweat profusely, then you would probably be in front of a spherical pagoda and mondop formed by laterite stones. The locals call it the Chao mae La-ong Samli shrine. Don't forget to pay respect and ask for a wish to the principal Buddha image created by piling layers of laterite plates and has been located there for more than 100 years. Going further, you will go to the top of Wat Khao Suwan Khiri. If you walk up the stairs and look towards the south, you would see how beautiful the city of Si Satchanalai is.
If you still have some energy, it would be recommended to ride for another 4.6 km to go to the "Celadon Kiln Site Study and Conservation Centre" to learn about the evolution of ancient ceremics and the story behind pottery; from the biggest and oldest kilns of Si Satchanalai.
Know Before You Go
"Open daily from 8.00 a.m. – 4.00 p.m. "
Recommendation
"Amphoe si satchanalai is well known for ancient designed golden and silver jewellery. You can buy them at old gold stores or the community's OTOP shops nearby. "
Please
"Pay respect during each stop of the journey."