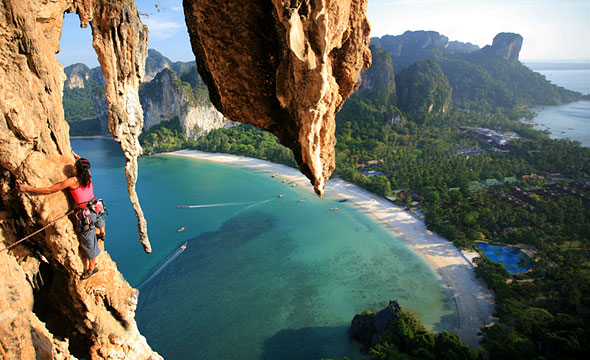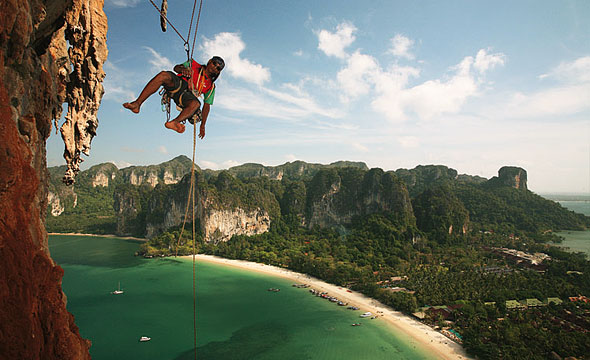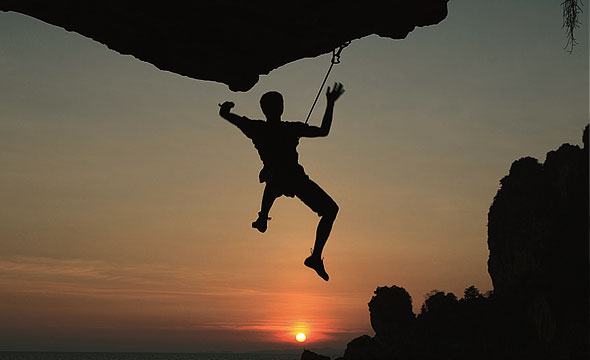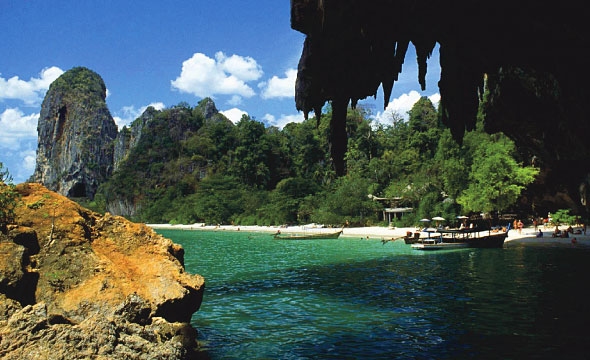 Two Bays…Over 600 Trails Towards a Cliff Hanger's Haven
Ao Railay
Travel Info
There are many local buses leaving from Krabi town to Hat Ao Nang or Chao Fa Pier, and then take a long-tail boat about 20 minutes to Ao Railay.
Google Geocode
8.011828,98.837467
Contact
Railay Rock Climbing Club


+668 9294 0686
+668 1797 2517
TAT Krabi Office


+66 7562 2163
+66 7561 2811-2
Facilities & Services
Rock climbing instructor & equipment, food, long-tail boat and restroom.
The glamour of climbing at Railay Bay are the surroundings decorated by limestone cliffs, emerald sea water, beaches reaching out to the corners of the sky, and cliffs that are ideal for real cliff hangers. Railay Bay is separated into 2 sides: The Eastern Railay Bay and the Western Railay Bay. Tourists who claim to be true cliffhangers and crave excitement will need to get on a boat at the western bay because the limestone cliff on that side has the suitable height for climbing. There are over 600 rock-climbing routes; this presents numerous challenges for individuals of various levels of skills and experience. The towering cliffs of Railay Beach and Ton Sai Beach attract rock climbers from all over the world and have steadily gained fame as one of the premier rock-climbing destinations.
For tourists that would love to see Phra Nang Cave would require use of a boat to the western side of the bay. The shore on this side of the bay has beautiful sand and clear water. Inside the cave is the Phra Nang Shrine where the mariners died their religious practices. In the past, fishermen would pray for safety as they leave the shores and ask that no obstacles or dangers emerge. Furthermore, the beach in front of the bay is also a destination for people who love to play in water or sunbathe.
Festivals
"Annually, the Krabi tourist authorities would hold a climbing event divided into 3 types: Lead Climbing Marathon, Speed Climbing and Deep Water Soloing. During the night, there would be a Fire Contest to spice up the event."
Tips
"When you reach Phra Nang Bay, do not forget to trek into the woods and up the mountains to get a breathtaking view of both sides of Railay Bay."