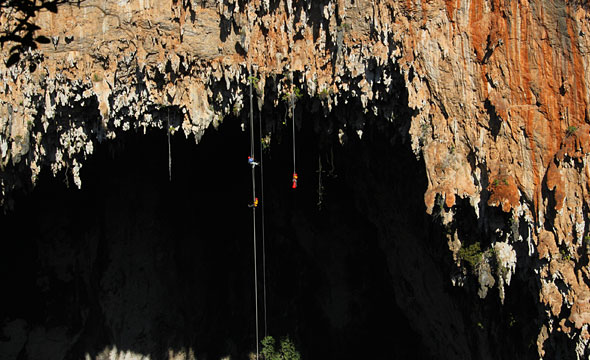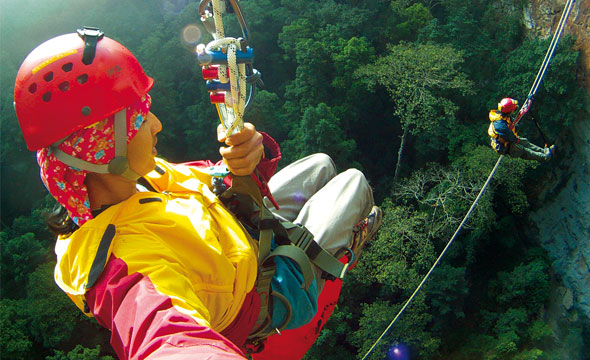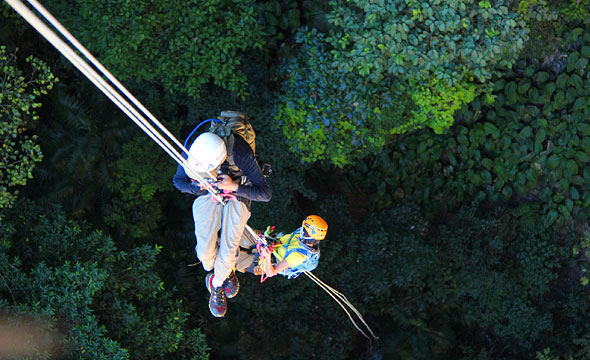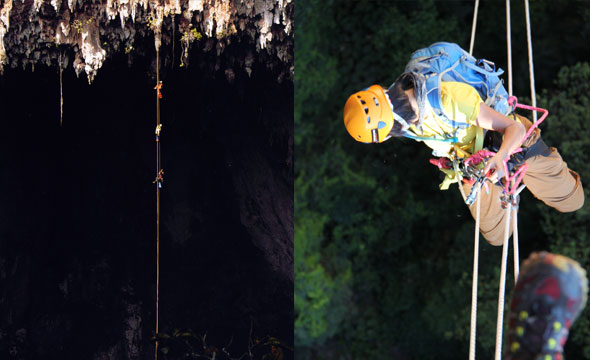 Rappelling into the Sinkhole: Unlock the World Mystery
Spirit Well Cave
Travel Info
From Mae Hong Son, take Highway 1095 heading towards Pai district and turn left to Highway 1226. Once passing through Mae Lana Checkpoint for 5 km, you will reach the entrance of Luk Khao Larm Village. Park your car there and walk up the hill through Pai Forest for another 40 minutes.
GPS Location
N19° 41.349', E98° 8.397'
Contact
HyperVenture Team


+66 86576 5158
+66 2748 9625
www.hyperventure.com
The Peak Adventure


+66 5380 0567 to 8
www.thepeakadventure.com
Facilities & Services
Rock climbing gear, tent, car service, tour guides.
The Spirit Well Cave, also known in Thai as "Tham Nam Bo Phi", is Lahu people's spirit cave. It is considered the biggest and deepest sinkhole in Thailand with the size as big as 2 football fields. The most amazing part is the 140 m depth, measured from the opening to the lowest point. The only way in and out is by 1-hour rappelling down and 2-hour climbing up the ropes. Cavers have to trust their lives with 2 strings of ropes and a few pieces of equipment for rappelling to the lush rainforest down there.
Once reaching the floor of the sinkhole, you will be stunned by thousands of beautiful stalactites in different sizes on the ceiling of this vast cave, clearly showing the moment of the earth's surface. The fault lines of rock layers at the cave's wall, as well as piles of rock falling down on the slopes, which is covered with fine-grained dust, evidence its age of thousands of years. You will feel like you have journeyed back to the pre-historic era, especially when you looking around and find that you are surrounded by lush green rainforest and the sound of birds chirping from the deep forest far away. After sunset, fog will descend downwards to the bottom of the sinkhole. At sunrise, you will see the golden sun shining down the hole, making it even more excitingly mysterious.
Know Before You Go
"Before starting the rock climbing adventure, you will be trained with professional instructors and guides. An overnight accommodation is available at the bottom of the sinkhole at Cave Lodge."
Recommendation
"The most important thing for rappelling is to stay hydrated. Find out the story why it is named "Spirit Well Cave" and do experience the local lifestyles and cultures of Black Lahu villagers at Luk Khao Lam Village."
Please
"Do not build or light a campfire and leave nothing there when you leave."
Best Time to Visit
"All year long, except during the heavy rain."