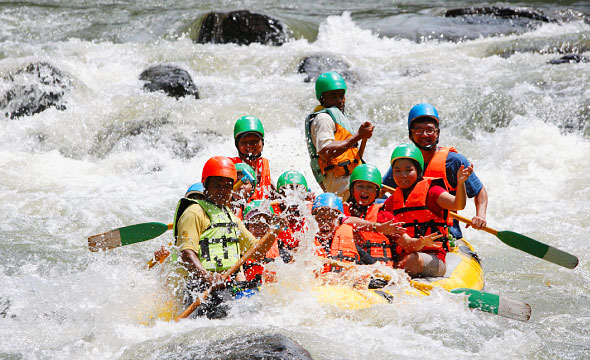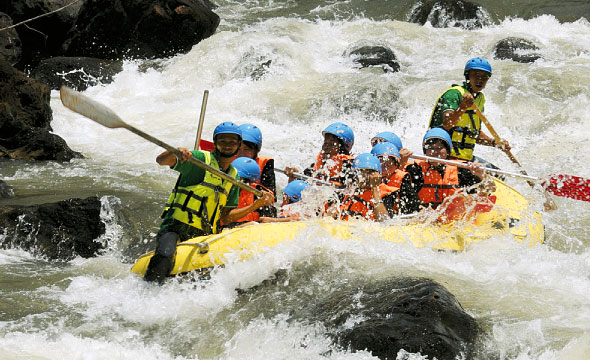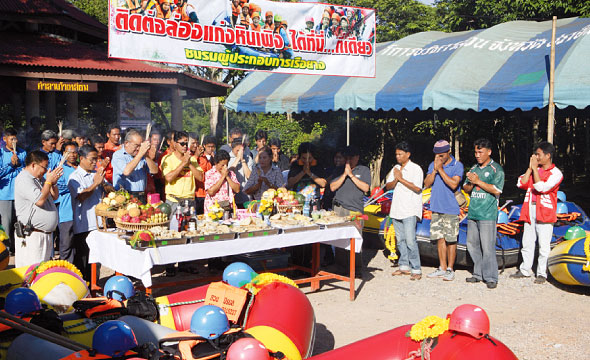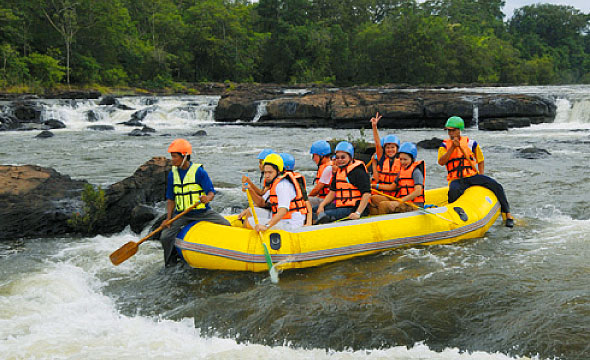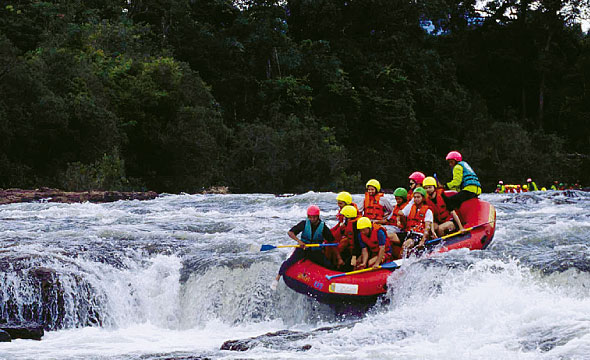 7 Rapids Adventure Boat Ride
Kaeng Hin Phoeng
Travel Info
Located at Khao Yai National Park. From Prachin Buri, take Highway 3452, and then continue on Highway 33. Turn left to the road beside a PTT gas station at Km. 201 and drive ahead for 200 m.
GPS Location
N14° 8.169', E101° 44.449'
Contact
TAT Nakhon Nayok Office


+66 3731 2282
+66 3731 2284
www.tat8.com
Facilities & Services
Inflatable boat, life jacket, tour guide, toilet, bathroom, food, parking.
The rapid here is 4.5 km long with the levels of difficulty from 3-5. The total rafting time is approximately 2 hours, starting at the first rapid "Kaeng Hin Phoeng". It is a big stream of water, 200 m in length, with a broken rock formation creating an eddy and strong current flowing through layers of rocks. After Kaeng Hin Phoeng, you will face another exciting rapid, "Kaeng Phak Nam Lom", which is like a large natural whirlpool. Experienced skill is required to paddle forward through the waterway.
After conquering the fierce water turbulences, "Kaeng Wang Yao" is ahead waiting to welcome you with the soft river current but there are some waves for you to get excited with. The next rapid is "Kaeng Luk Sue", a short rapid with current as powerful as "Kaeng Hin Phoeng". Followed by "Kaeng Wang Bon", you will experience boulders in the middle of the waterway converting the current into small beautiful streams. "Kaeng Wang Sai" is a rocky rapids 50 – 60 m in width, 150 m in length with a 30-degree slope. This is another rapid because of its waves. The final rapid is "Kaeng Ngu Hao" – the most peaceful rafting area for the perfect finale of this white-water rafting adventure.
Know Before You Go
"A 2-km walk into the jungle is required before arriving at the white-water rafting spot, which takes approximately 50 minutes. The total rafting time is around 2 hours."
Recommendation
"There are jungle trails and bike trails nearby; a great opportunity to enjoy the beautiful nature. "
Festival
"Kaeng Hin Phoeng White-water Rafting Festival starts annually around July. Hundreds of inflatable boats and crafts are gathered together for great fun."