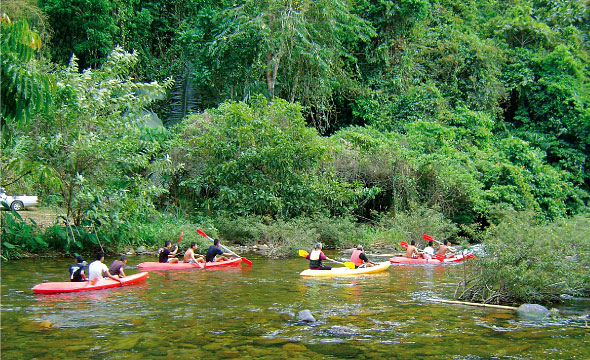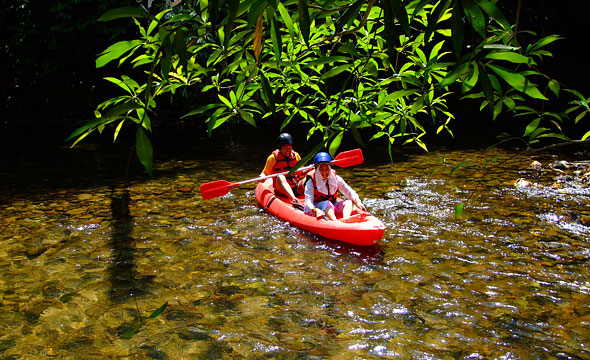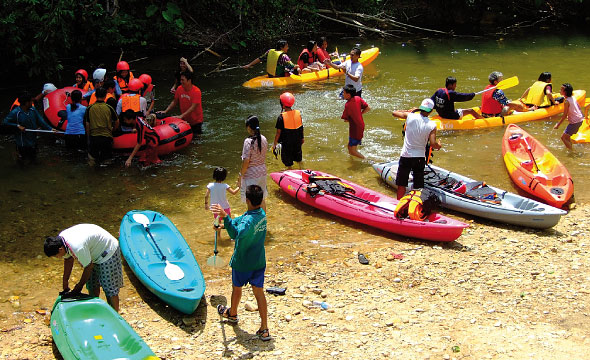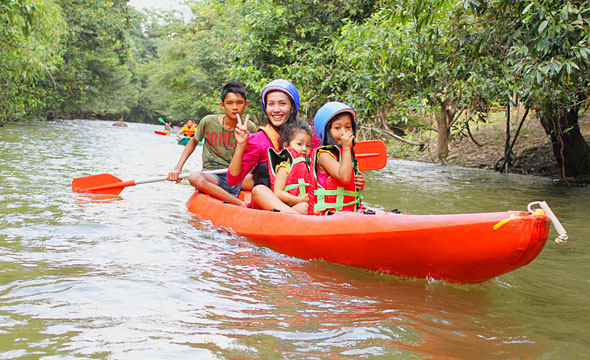 White-water Rafting to Waterfall by kayak
Khlong Lam Lon-Wang Sai Thong
Travel Info
Located in Nam Phut Sub-district. From Satun, take Highway 406 and then 416 to La-ngu District and then turn right by following the Namtok Wang Sai Thong signs.
GPS Location
N07° 5.336', E099° 54.603'
Contact
Nanamtok Home Stay


+668 4195 5208
+668 0714 6317
www.nanamtokhomestay.com
TAT Satun Office


+66 7423 1055
+66 7423 8518
Facilities & Services
Guide, boat, safety gear, elephant, food, restroom and parking.
Khlong Lam Lon is Satun province's main canal, originating from the Banthat Mountain Range which connects 3 provinces – Patthalung, Trang and Satun. The stream is flowing down from the watershed forest to the Andaman Sea at Pak Bara – creating many small rapids including Namtok Wang Sai Thong, the only limestone waterfall in the South.
With a total distance of 8 km with big trees along both sides creating the shade shielding paddlers from the sun, making it impressively pleasant for white-water rafting.
It is more exciting to do rafting through 16 rapids in total by a kayak rather than an inflatable boat, as the overall difficulty of rapids is at the Level 1-2.
You will enjoy the ultimate peaceful nature along the way – the crystal clear water, numerous wild orchids, and lifestyles of the local people by the canal as well as the Sagai Tribe. In addition, there will be staff along the rafting course to make sure you'll be safe. It usually takes around 2 hours to finish the course.
Know Before You Go
"Different companies have different white-water rafting routes because there is no white-water rafting association or club."
Recommendation
"Chet Khot Cave, Wang Sai Thong Waterfall and Phu Pha Phet cave are nearby and worth visiting."
Best Time to Visit
All year long.