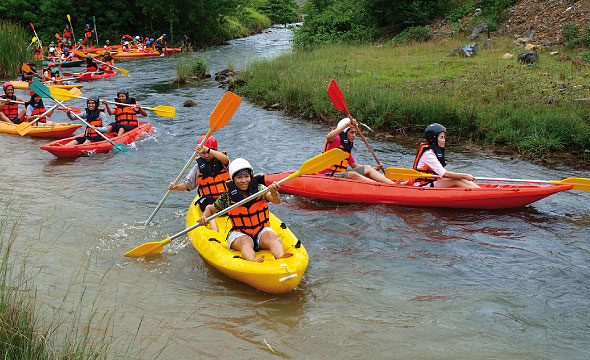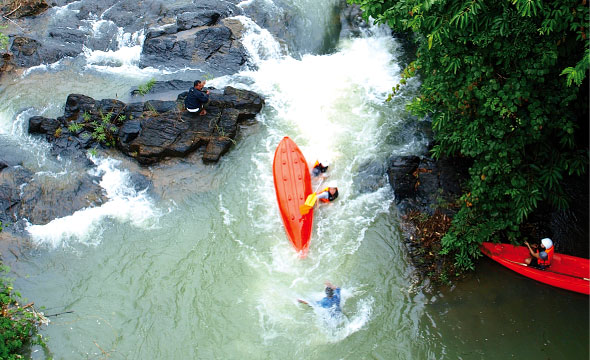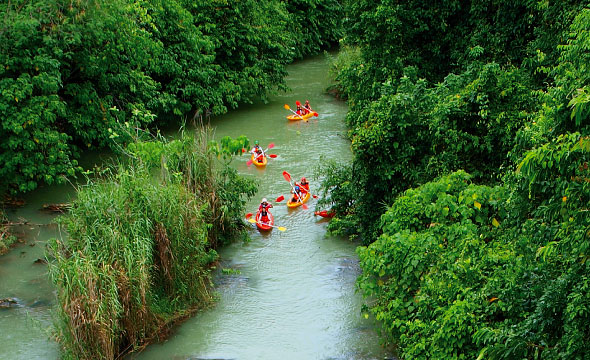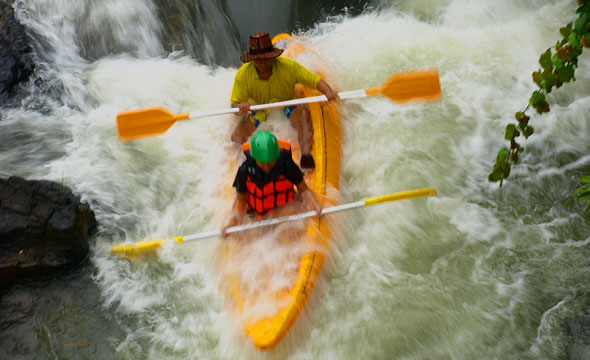 Kayak to Conquer 40 Rapids
Nan Mot Daeng
Travel Info
From Phatthalung, take Highway 41 to Pa Payom District and turn left to Highway 4270. Continue on the road by following Nan Mot Daeng signs for about 9 km.
GPS Location
N 7° 53.085', E99° 50.039'
Contact
Khun Yothin Khaokaikaeo


+668 9873 1464
+668 1370 2123
www.nhanmoddang.com
TAT Phatthalung Office


+66 7434 6514
Phatthalung Kayaking


+66 7468 1364
+66 7468 1086
Facilities & Services
Guide, boat, safety gear, elephant, food, restroom and parking.
Kayaking in Nan Mot Daeng is the newest holiday activity in Pah Phayom district, Phatthalung province. Before the adventure starts, paddlers will be trained about a rafting route, paddling skills, how to read the currents, regulations and safety measures.
The launch point is at Huai Nam Sai Reservoir. The rafting distance is about 6 km, taking 2 hours in total. Paddling along a rather narrow stream through over 40 rapids with the difficulty at Levels 1-3, the most notorious rapids here are "Kaeng Lung Chuan", "Kaeng Song Phi Nong", "Kaeng Mot Daeng", "Kaeng Yao" and "Kaeng Mai Pai" where is used to measure a paddler's skill. As there are strong currents flowing down like multiple steps of a waterfall, whoever passes this point without their kayak being flipped upside-down is considered a skillful kayaker.
Both sides of the canal are abundant with natural splendours – numerous kinds of flowers and local birds. The water is so cool and crystal clear that schools of fish and seaweed are visible from above the water. After the kayaking thrill, you can relax your muscles in the herbal steam room, the favourite activity for working and older adults.
Know Before You Go
"Nan" in local dialect means "Kaeng" (or rapids) and "Mot Daeng" means red ant. According to the local people, Nan Mot Daeng is a great, never-ending source for fish. When they got the fish, they would cut the head and tail of the fish. The smell of the fish attracted numerous red ants to feast on fish remains. That's the origin of the name "Nan Mot Daeng"
Best Time to Visit
"All year long"