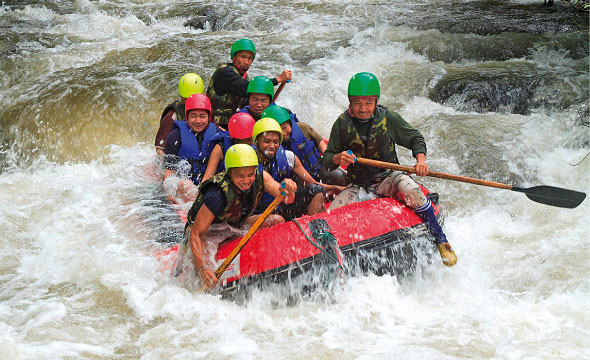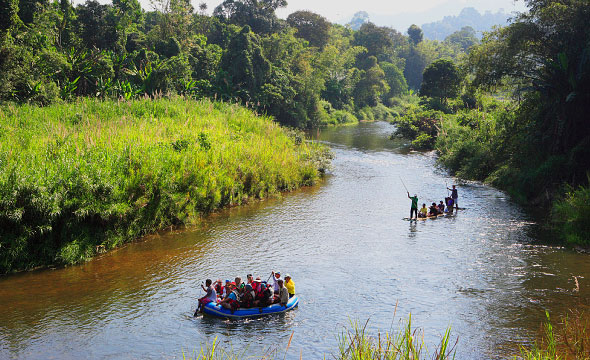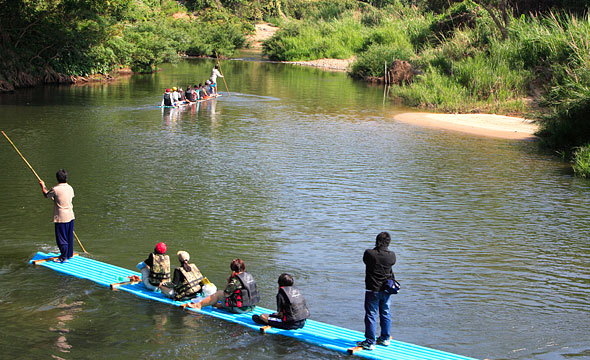 Exciting White-watering on an Inflatable Raft
Phato
Travel Info
From Chumphon town, take Highway 41 past Thung Tako district and turn left into Highway 4006. Continue for another 40 km by following the signs "Phato".
GPS Location
N9° 47.445', E98° 46.623'
Contact
Phato Ecotourism Club


+668 4925 7007
TAT. Chumphon Office


+66 7750 2775-6
Facilities & Services
Tour guide, raft, homestay, food, restroom and parking.
The forest filled with green vegetation and the waterway that flows down the mountains of its birth is important to the local people in Phato. In travelling to Phato not only will you have an adventure in the midst of plentiful nature, but you will also see the strong community cooperating to preserve the forest and the source of the river. The community manages the teaching of locals and tourists in the importance of this forest, as well as developing the area into an eco-friendly adventure tourism destination along the principles of "living forest living people". White-water rafting here is done on an 11-km route with difficulty Levels 3-4. There are 7-8 exciting white-water areas which are named "Kaeng Bok Fai", "Kaeng Heo Bua Thong", "Kaeng Heo Ta Wan", "Kaeng Heo Ta On", "Kaeng Khuean Nam Won", "Kaeng Hua Kalok", and "Kaeng Hin Chang". It takes around 3 hours to complete the route. Some areas of the waterway have vegetation that has grown over or into it which will keep you busy guiding your raft to dodge them. There are also areas of the waterway where the water flows slowly and you can take a rest, splashing around enjoying the cool and clear water.
Take in the scenery of the lush forest on both sides of the river, considered to be the richest in wildlife and vegetation in southern Thailand, while listening to the songs of the various birds. Besides the rafting, there is also a fruit orchard tour that allows visitors to taste fresh fruit right off the tree. On the journey, you may see Hornbills, Kingfishers, or the Dusky Leaf Monkey which goes to show the plentiful wildlife of the forest and waterway that has existed together for so long.
Know Before You Go
"It is open to travellers all year round. If you want to do rafting, go during July and August. During June to October, you can also visit fruit orchards and taste ripened fruit right off the tree."
Recommendation
"If there is time, take a hike into the forest to study the upstream ecosystem and the way of life of the community that has existed along with the forest in a sustainable fashion. It is an excellent model for other forest-dwelling communities to follow. You can say this community is living proof that co-existing with the forest is possible with the cooperation between the community, forestry officials, and the forest's natural resources."
Festivals
From January-February, there is rafting in the Phato Ecotourism Festival. There will be more excitement on the water during this period.
Location
View
Phato
in a larger map