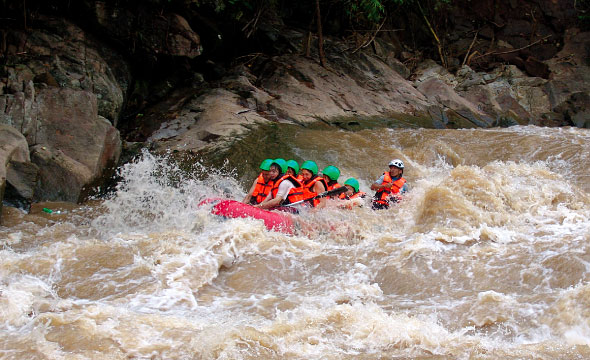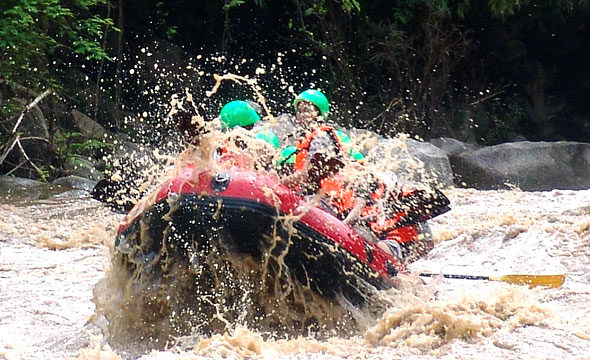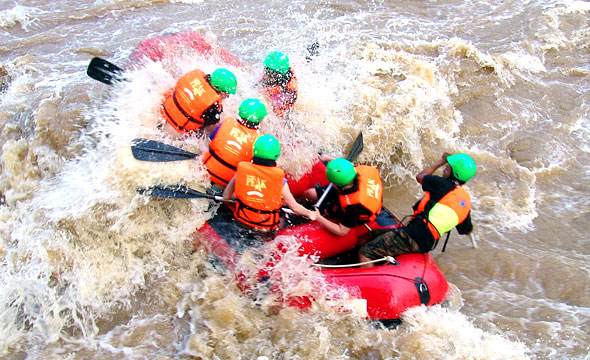 Conquer the Power of Nature
Mae Taeng River
Travel Info
The site is in Kuet Chang, Mae Taeng district. The easiest and most convenient way is to book a rafting package including all transfer services from your accommodation.
GPS Location
N19° 12.130', E098° 53.142'
Contact
TAT Northern Office: Region 1


+66 5324 8604
+66 5324 8607
The Peak Adventure Tour


+66 5380 0567 to 8
www.thepeakadventure.com
Facilities & Services
Tour guide, raft, restroom, safety gear and parking.
Here the excitement and danger may be the same because of the complex and twisted islets of Mae Taeng Stream. The total distance is 10 km. The trip takes about 2.5 hours. The rafting can be divided into three stages. The first stage is from Ban Sop Kai to Pang Ko with a total distance of 4 km. The difficulty is at the Level 2-3. Rafting at this stage is safe and enjoyable perfectly for getting use to the boat control while you are rafting through 6 fun and safe islets. The second stage is from Pang Ko to Ban Huai Masang with a total distance of 2 km and the difficulty at the Level 4-5. This toughest stage comprises of 7-8 islets. So teamwork, including physical and mental strength, is really required. The third stage is from Ban Huai Masang to Mueang Kit with a total distance of 4 km. The difficulty is at the Level 3-4. This stage has over 6 big challenging islets.
The best part is where you face 3 big islets in a row for about 500 m. The rafting at this last stage is exciting and adventurers can also explore the nature closely seeing gibbons crying, snakes crossing the river, kingfishers catching fish, sandpipers, hornbills, storks, lianas and butterflies flying in front of them.
Know Before You Go
"The trip is fine for experienced and non-experienced adventurers and able to do rafting all year round. The professional staff will provide understanding and training to all participants before the rafting. Pregnant women, little children below 7 years old and heart disease suffering persons are not allowed for the rafting. "
Recommendation
"Wear light, fitting and anti-water absorbing clothes. Jeans are not recommended because they will be heavier when exposed to the water. You should also bring spare clothes."
Please
"Follow instructions given by your boat captain. And dump garbage in the specified area."