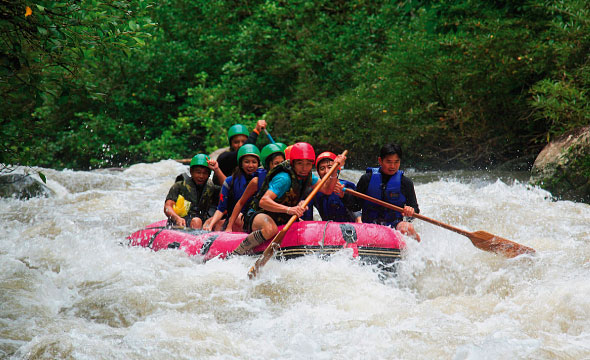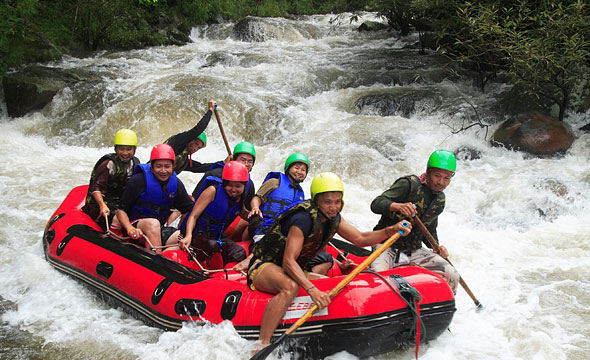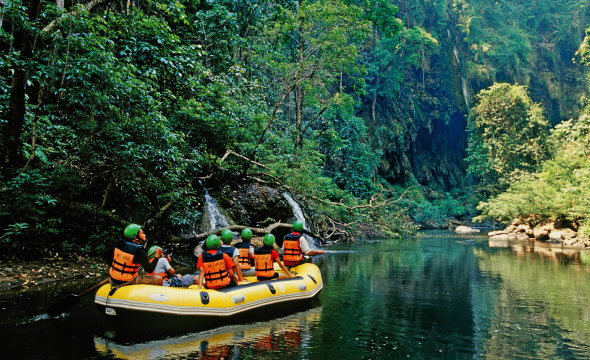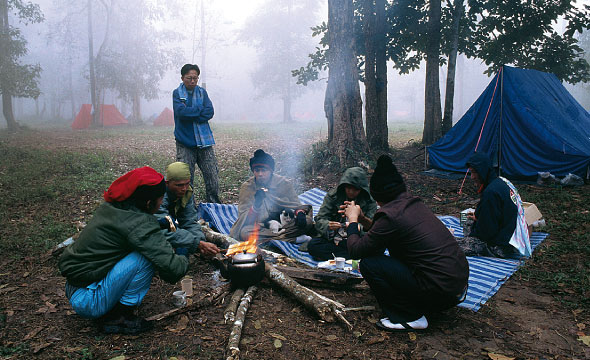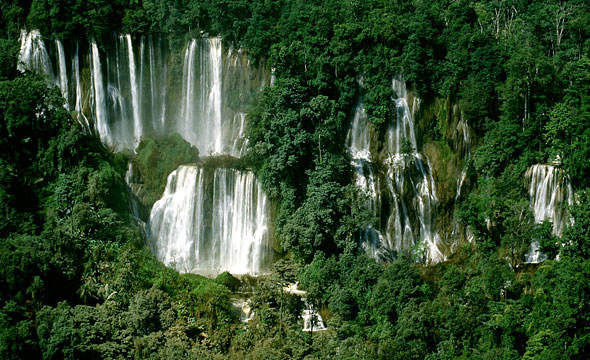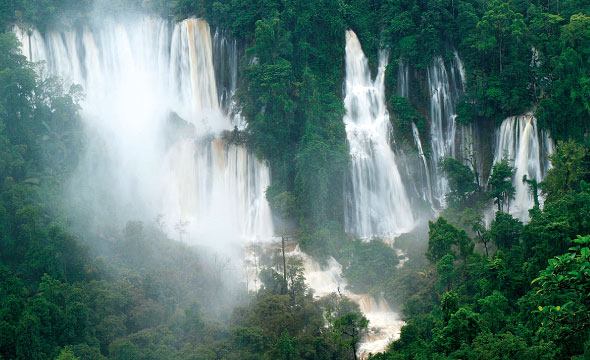 The True Spirit of Adventure
Umphang Khi & Namtok Thi Lo Su
Travel Info
There is no direct bus or plane service from Bangkok to Umphang. You need to travel to the border town of Mae Sot first (by daily bus from Bangkok), then take a Mae Sot-Umphang local shuttle service from the bus terminal. It is a tough 169 km. 4-hour ride guaranteed to cause motion sickness, so be prepared.
GPS Location
N15° 55.848', E098° 45.86'
Contact
Umphang Wildlife Sunctuary


+66 5551 1142
TAT Tak Office


+66 5551 4341 to 3
Facilities & Services
Inflatable boat, local guide, safety gear, accommodation, food and parking.
Rafting through Umphang Khi
Our travel destination is "Umphang Khi Karen Village" – where we will start rafting on an inflatable craft along the Umphang Creek and Thanon Thong Chai Mountain Range through milder rapids (Level 2-3). The soft curls will offer us ample scope to get a hold on the white waters. While you raft further in the course, noticeably the river's flow starts picking up pace and the torrent tends to get faster. We will paddle past over 77 rapids in different sizes, lengths and levels of difficulty against the smooth and exciting waves until reaching "Pae Do Tha Village". It takes approximately 4 hours in total. Then, we will continue the journey by car to the accommodation for resting and getting ready for the next day.
Mae Klong's Headwater to Namtok Thi Lo Su
Starting at the headwater of Huai Ya Mae, we paddle the inflatable craft along the creek, past the city centre to Huai Mae Klong's headwater. This part of the river is suitable for paddling while enjoying the lush green trees along both sides and the clear sky as the water current is still slow. In addition, it is acclaimed to be the most beautiful white-water rafting course in Thailand, especially during the winter season. After a while, we will arrive at "Namtok Thi Lo Cho" (which means a rain waterfall in local Karen language), it is a 5-level curtain waterfall which you can navigate the boat through. You will feel like you are paddling in the middle of the rain.
Not far away, we will approach "Namtok Sai Rung". The highlight is a strikingly beautiful rainbow when the sun shines on it. The next stopover is the "Hot Spring". We have to park the raft and walk on the shore, relaxingly soaking your feet in the hot spring and freshening up before continuing to "Ban Tha Sai" where lunch is served. The whole rafting ride to here takes 2 hours.
Our next and final destination is "Namtok Thi Lor Su" (which means a black waterfall in local Karen language), located in the Umphang Wildlife Sanctuary zone, a UNESCO World Heritage Site, which links with the Thung Yai Naresuan and Huai Kha Kaeng Wildlife Sactuary, as well as Namtok Khlong Lan and Mae Wong National Parks. Together, they form Thailand's largest wildlife haven and Southeast Asia's top virgin forest. Namtok Thi Lo Su is also considered as the sixth largest waterfall in the world and the biggest waterfall in Thailand with unparalleled beauty, especially during the rainy season. This limestone waterfall stands 200 m high and 400 m wide.
It is a 3-tiered waterfall with a sunken plunge pool. During the winter season, you can walk up to the 2nd tier, where a beautiful rainbow is usually visible in the mid-afternoon. For the 3rd tier, no walking path is available.
If you wish to see the waterfall from a higher perspective, there is an entrance to the walking trail near the parking area. Before reaching the waterfall, there is a walking trail on the right leading up to the top of the mountain, which takes approximately 1 hour to get there. Seeing the beauty of waterfall from this top spot will take not only your breath but also your tiredness away.
This tour programme is truly a thrilling and fascinating experience. If you have an opportunity to visit Umphang District or Thi Lo Su Waterfall, it is highly recommended to spare some days to try this white-water rafting thrill at Thi Lo Su once. You will definitely have an awesome rafting experience of a lifetime.
Know Before You Go
"This trip requires full strength and stamina as it takes approximately 3-4 hours by foot (at least 10 km distance) to walk from the drop-off spot to Thi Lo Su Waterfall. However, you can enter by 4-wheel vehicles and then continue by foot for a shorter distance but this option can only be done during the non-monsoon season."
Recommendation
"The waterfall will be most beautiful during June-October."
Please
"Do not leave any trash in the jungle and river. Keep tracks and the campsite clean. Follow local guides for your own safety."