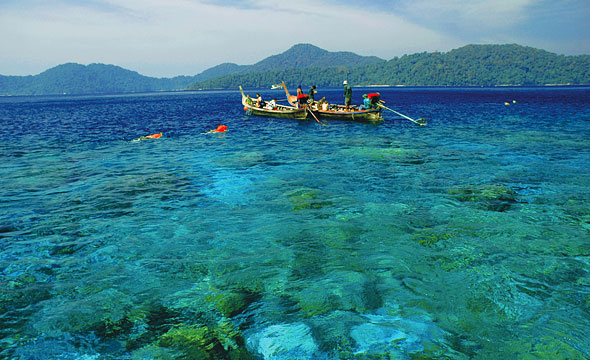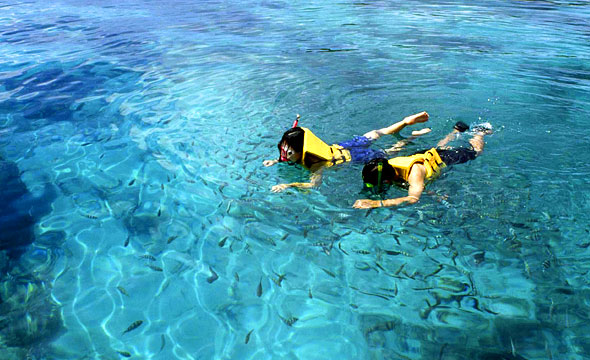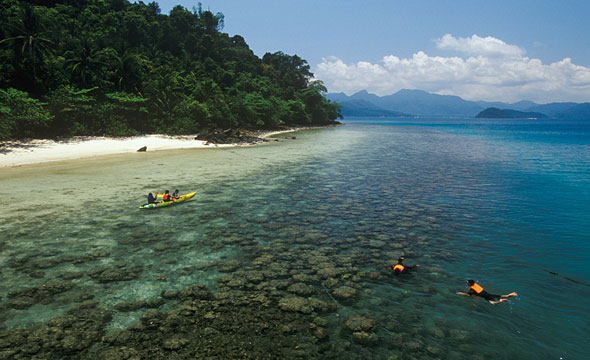 Underwater Adventure, Enjoy the Beauty of the Fish and Coral Reefs
Ko Wai
Travel Info
From Trat town, you can easily catch a local bus or taxi to Laem Ngop Pier. The boat leaves to Ko Wai once a dayat 3.00 p.m. but there isalso a speed boat availableall day. It is about 12 km. to the southeast of Ko Chang.
GPS Location
N11° 54.057', E102° 24.118'
Contact
TAT Trat Office


+66 3959 7259 to 60
Facilities & Services
Tour guide, boat, accommodation, restaurant and restroom.
If you are already visiting Ko Chang, most tourists would not miss a chance to dive at Ko Wai. Just by putting on your goggles and floating at a short distance from the shore, you would be able to see submassive coral, staghorn coral and brain coral. It is said to be the widest coral reef in the Trat Sea. The beach in front of Ko Wai is divided into 3 sections which are separated by rocks. There are paths that go through the woods to avoid the rocks and take you to other beaches.
The sand on the beaches of Ko Wai is red-brown. This island is a peaceful place; ideal for simply relaxing. In addition, it is very popular among those who love to fish. Moreover, there are nearby islands; namely, "Ko Ngam" and "Ko Lao Ya", which are also worth paying a visit to.
There are 4 points of interest for deep-water diving:

Hin Luk Bat: a reef of rocks slightly emerging from the water, which is located in the channel between Ko Chang and Ko Khlum. This is a deep-water diving point that has beautiful coral with a depth of 15-20 m.
It takes about 1.5 hours from the pier to reach this point by boat.
Hin Sam Sao: a pile of rocks underwater with many kinds of beautiful coral and big fish. This point is 15-20 m deep and about 1 hour and 45 minutes from the pier.
Hin Prhai Nam: an underwater mountain which serves as a home for many kinds of large fish. The water is 20-30 m deep and it takes about 2 hours to get to this point from the pier.
Ko Kra and Ko Rang: the most beautiful deep-water and shallow-water coral resources in the eastern sea. There are many beautiful fish and many kinds of coral. It takes about 3 hours from the shore to get to this point.
Know Before You Go
"There are resorts and restaurants on all 3 beaches of Ko Wai, reservations in advance are highly recommended."
Recommendation
"If you stay overnight on the island, you can rent a boat to go out during the night to catch some cuttlefish."