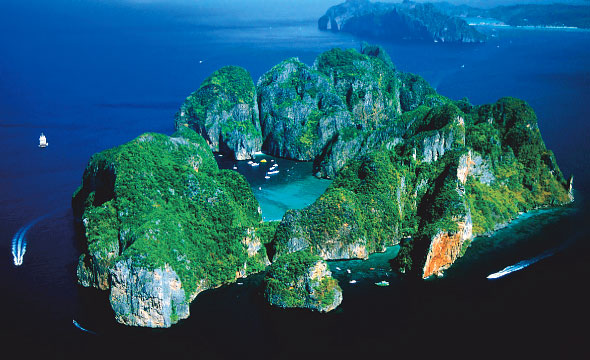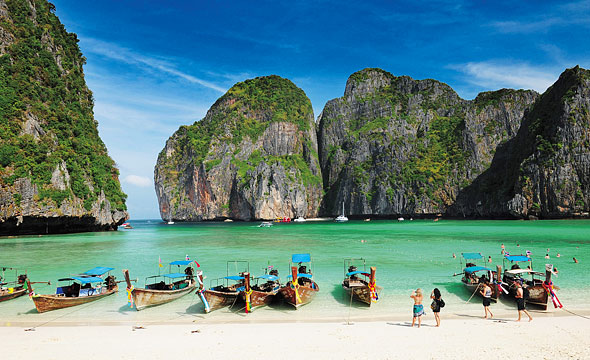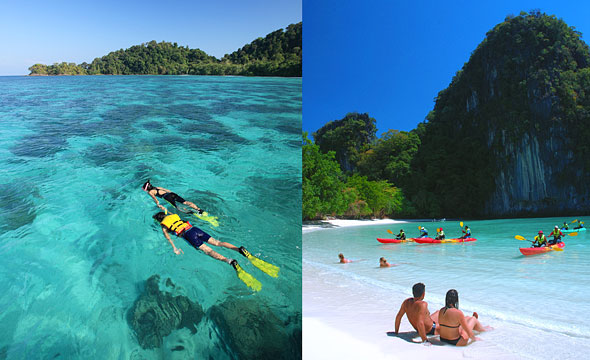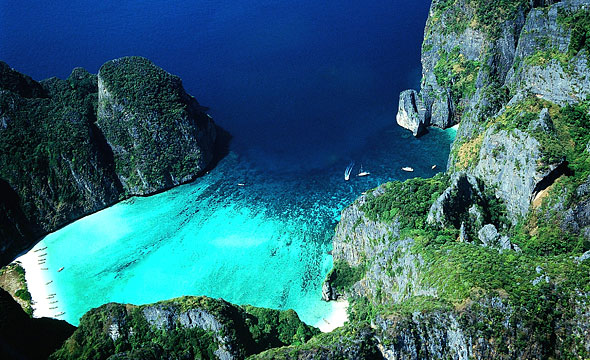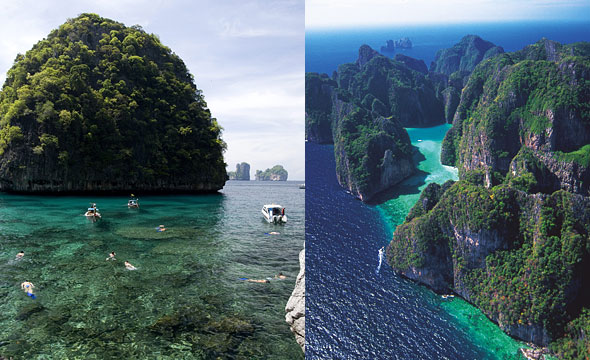 The Coral Reef Kingdom – Tremendous Dive Sites
Mu Ko Phi Phi
Travel Info
From Krabi, get on the speedboat at Khlong Chi Lat Pier or Hat Noppharat Thara. From Phuket, get on the boat at Ratsada Pier. It takes approximately 1 hour by speedboat or 2 hours by ferry.
GPS Location
N07° 44.609', E98° 46.539'
Contact
Hat Noppharat Thara – Mu Ko Phi Phi National Park


+66 7563 7200
+66 7566 1145
Facilities & Services
Boat, accommodation, camping sites, restaurant, and restroom.
Clear bright blue sky, a striking limestone mountain range, white sandy beaches, warm sunshine, various kinds of fish, stunning coral reefs make Phi Phi Islands a heavenly destination for divers from all over the world. It consists of 6 islands.
"Ko Phi Phi Don" is a home for soft and hard corals, gorgonians (sea whips or sea fans), flower corals, seahorses, Harlequin Ghost Pipefish, Morey Eels and stingrays. The popular dive site is around "Ao Nui" (15-22 m deep), perfect for snorkelling, as well as scuba diving. Located at Ton Sai Bay is another great diving spot called "Hin Dot", which is like 3 chimneys aligned close together in a north-south direction, the deepest rising only to 16 m below the surface. The main pinnacle has 3 ledges at 3 m, 12 and 15 m, then drops down to 30 m. This provides an ever-changing underwater scenery as you slowly ascend, spiralling ever upwards.
The east of the island is situated the "King Cruiser Wreck" at the depth of 12-30 m. Years after years, it has become a stunning and exciting wreck dive site – a habitat for hundreds of marine species. Diving here requires Advanced Open Water Skill. Near the shipwreck, "Ko Mai Pai" is situated around 3 km away from the north of Phi Phi Don. It has a long white sandy beach with crystal-clear sea water that you can see coral reefs in shallow water. The coral reefs here are very abundant and spread out for over 100 m around the island.
"Ko Yung", just 1 km away from Ko Mai Phai, has perfect abundant coral reefs in both shallow water and deep sea; such as, tabulate corals, huge branching coral, flower coral and sea fan.
"Ko Phi Phi Le", another beautiful diving site especially around "Ao Loh Sa Ma", "Ao Maya" and "Ao Pi Le". The emerald green sea is surrounded by green mountains and abundant with cup coral, massive coral, branching coral, sea anemone and gorgonians.
"Ko Pida Nai and Ko Pida Nok" are located around 2 km away from the south of Phi Phi Le. Alike ledges in the middle of the sea, it is a perfectly beautiful dive site underwater photographing as you will see cup coral, branching coral, and marine animals; such as, clownfish and freshwater butterfly fish. On the right side of "Ko Pida", there are 2 more ledges submerged under the water from north to south called Shark Point. Brownbanded bamboo sharks and zebra sharks are often found here. Pink soft corals, fan coral, sea anemones, schools of fish and many other types of small sea life will impress and excite divers here.
Recommendation
"Stay over on the islands for a couple of nights."
Please
"Fish feeding indirectly ruins the ocean ecosystem. Do not crash or step on the coral reefs, especially the areas with strong currents."