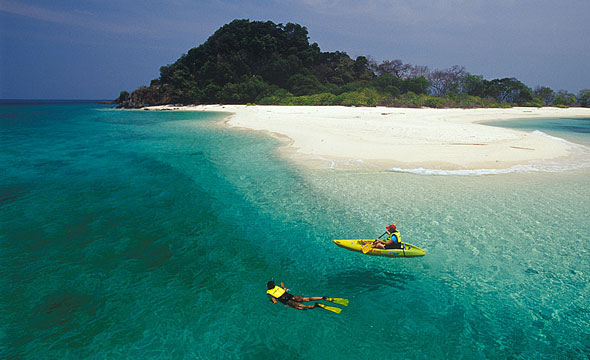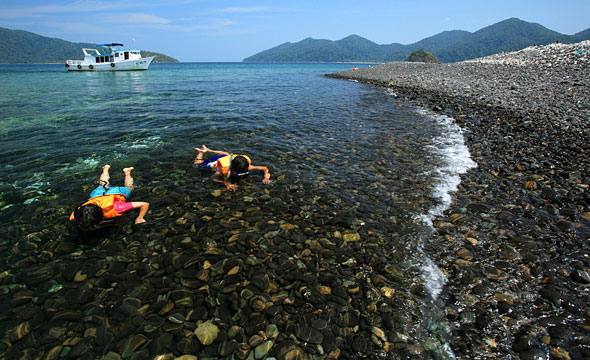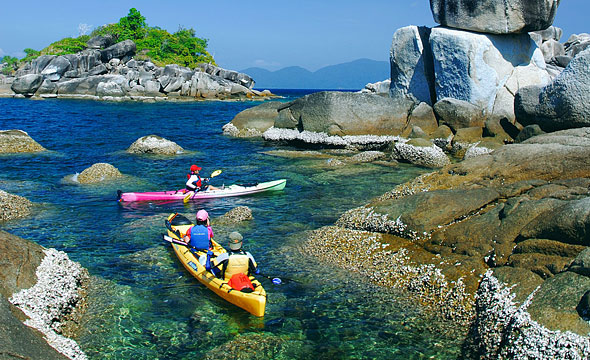 Heaven of Shallow Coral Reefs
Ko Tarutao & Ko Adang-Rawi
Travel Info
The Pak Bara Pier is easily connected with Satun by local Song Thaeo and with Hat Yai by mini vans. A boat ride takes about 1.5 hours.
GPS Location
N6° 35.479', E99° 39.385'
Contact
Mu Ko Tarutao National Park


+66 7478 1285
+66 7472 9002 to 3
TAT Trang Office


+66 7521 5867
+66 7521 1058
Facilities & Services
Boat, accommodation, diving school and shop, restaurant and restroom.
In Thailand, the soft corals at Ko Tarutao and Ko Adang-Rawi are the most beautiful in particular at "Jabang Pinnacle" – the most popular dive sites (max depth of 18m) for snorkelling and scuba diving where the colourful corals in pink, red, purple and a variety of marine life including Seahorses, Pipefish, Lionfish, Shrimps and Nudibranchs can be found, as well as the colourful soft coral reefs. Around "Ko Yang", the second diving point, the divers will be amazed with the beauty of various corals and colourful marine fish; such as, Staghorn coral, Leaf coral, Table coral, Sea anemone, Anemone fish, Parrot fish, Lionfish, Moray eel, Giant clam, Squid and Crab.
The other diving sites that you can't miss them are at "Ko Rawi" where the coral reefs are found along the long beach. Next to the beach, there is an orange buoy line on the sea for identifying the reef area. Here, the divers will be stunned with various Gorgonians, fish, Starfish and Sea plants. "No Name Rocks" is the other recommended place for diving where beautiful soft corals, Gorgonians, Sea anemones and colourful fish await you. Lastly, "8 Mile Rock" is an advanced dive site, 70-minute boat ride from Ko Li Pe. It is a soft coral covered pinnacle that starts at 14 m below the surface and drops to 50 m deep. Diving is often not possible here due to the extreme currents that can be present but when you can dive, it is likely that you'll see large pelagics including Whale sharks and Manta rays.
Know Before You Go
"The boat departs to Ko Tarutao and Ko Li Peat 11.00 a.m. and another round at 1.30 p.m. (only high season: November – April). The boat takes about1.5 hours. For overnight camping on Ko Adang, you must contact the National Park in advance. "
Recommendation
"Stay over on Ko Li Pe for at least two nights."
Please
"Be careful of damaging coral reefs, especially in areas with strong water currents. Please pick up trash if seen and do not take corals or seashells from the island."