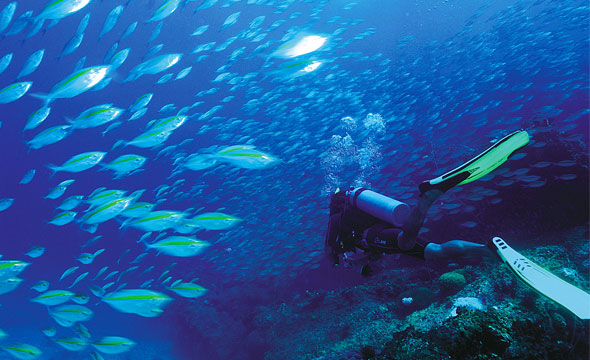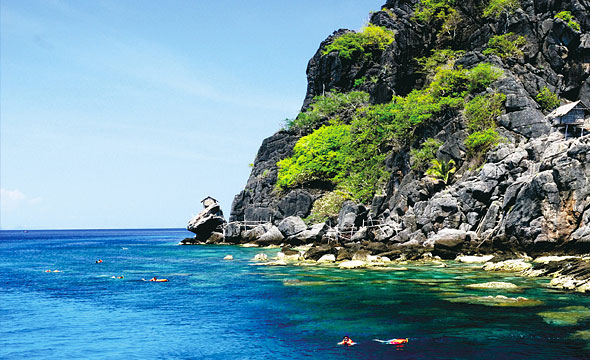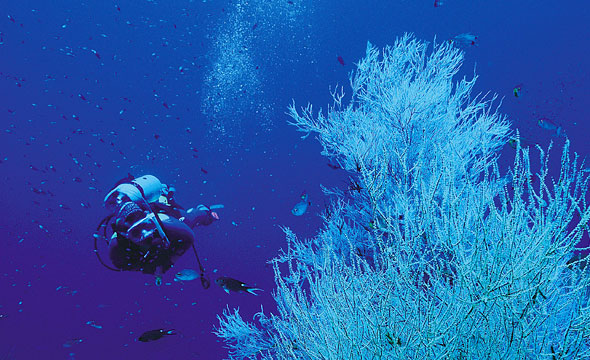 Diving with the giant whale shark
Mu Ko Chumphon
Travel Info
From Chumphon town, drive along Highway 4001 for about 7 km. to Tha Yang Pier. Lots of local buses and taxis can take you there. For easier way is to book a tour package with Chumphon Cabana Resort.
GPS Location
N10° 23.799', E99° 21.079'
Contact
Mo Ko Chumphon National Park


+66 7755 8144-6
TAT Chumphon Office


+66 7750 1831
+66 7750 2775-6
Chumphon Cabana Resort


+66 7756 0246 to 7
www.cabana.co.th
Facilities & Services
Diving centre, guide, boat, accommodation and restroom.
There are over 41 islands in Chumphon Sea, however, only 7-8 islands have the popular and beautiful diving spots especially Ngam Islands. The undersea world around the "Ko Ngam Noi and Ko Ngam Yai" is full of huge brain corals, staghorn corals and colourful sea anemones dancing along the rhythm of the stream. These corals and sea anemones provide food and shelter for various species of colourful sea fish; such as, butterfly fish, clownfish, angelfish, rabbit fish, etc. If you are lucky, you might see the friendly giant whale shark swimming around to find food under the sea of these two islands. The most beautiful diving spot in Chumphon Sea is at "Ko Lak Ngam" with the approximate depth of 9 – 20 m. Here you will find the amazing colourful branches of one of the thickest black coral reefs in Thailand. You can also see the red sea whip, large colonies of sea anemone, schools of different species of fish and a large number of phyllidia coelestis.
About a 100 m away from the North of Ko Ngam Yai, you can see a pile of rocks known as "Hin Phae" that is full of Black corals, Sea whip and Corallimorph. It is a home of big fish like Whale shark, Barracuda, Round batfish, Red snapper, Jackfish and large schools of yellow stripe trevally swimming around including Leopard shark and Stingray.
"Ran Pet & Ran Kai" are two small islands that have the very rich deep-sea coral reefs containing black corals in different colours-light yellow, white and gold, as well as Red neptune's cup sponge, Red sea whip, Yellow-band fusilier and Saw blade shrimp.
"Ko Mattra" is the best snorkelling spot in the area with massive coral and brain coral reefs, White clownfish with black spots and small Rabbit fish. Moreover, there are several small coral reefs under the sea around "Ko Thalu" and "Ko Langka Chio" which are homes of big fish; such as, school of Rabbit fish, Fusilier and sometimes Blacktip reef shark.
Know Before You Go
"You can most often see the whale shark in April. By the way, the National Park does offer boat trips for tourists."
Recommendation
"Stay over at Mattra Island."