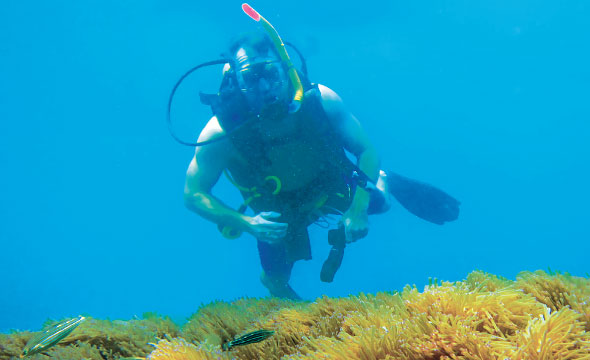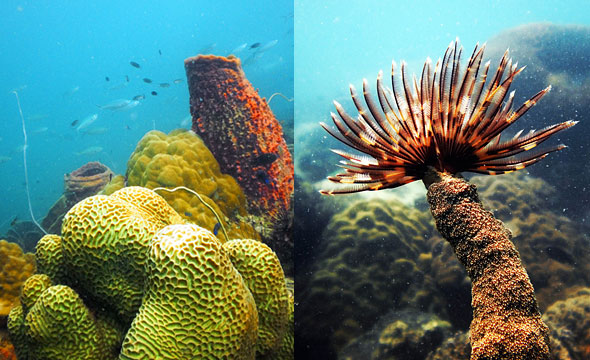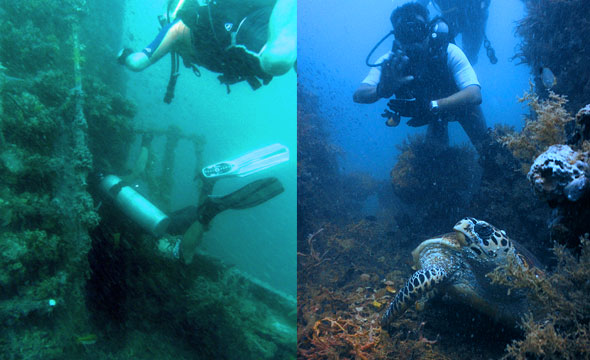 Closet Diving Sites to Bangkok
Pattaya Dive Sites
Travel Info
Take the boat from Bali Hai pier in South Pattaya. The boat leaves daily every hour. However, all diving packages usually include sea transfers.
GOOGLE Geocoder
12.913552, 100.774727
Contact
Pattaya Dive Centre


+66 3871 0918
www.divepattaya.com
Facilities & Services
Boat, diving gear, dive leader and food.
Pattaya is a diving paradise for both experienced and non-experienced divers. "Ko Khrok" is the nearest diving place where you can see the breath-taking coral reefs at the depth of 3–12 m. The current is suitable for drift diving. You may see sea turtles as well. The "Pattaya Vessel" is the point where you can observe the ancient vessel at the depth of 26 m near "Phra Nang Rocks". The vessel is covered with hump corals, disc corals, mushroom corals, staghorn corals, sponges and sea fans. "Ko Lan" is also the other diving area where rare marine animals and beautiful sea slugs can be seen at the depth of 6-20 m. The current is not so swift.
Diving can be also made at "Ko Phai" where you can see beautiful fish, or you can go through the past by diving at the "HTMS Khram Wreck", the vessel of World War II which was immersed in the sea at the depth of 30 m with 2 anchors. This vessel is the first man-made diving spot in Thailand.
Not far away, the corals and Neptune's cup sponges are very abundant at "Ko Mara Wichai". The sea water here is very clear. Various marine animals – Red Soldierfish, Bluering Angelfish, Regal Anglefish, longnose butterflyfish and pennant butterflyfish – can be seen at the depth of 5 – 20 m. The most faraway diving spot is at "Ko Rin" where coral reefs and rare marine animals can be observed. For example, hump corals, staghorn corals, table corals, mushroom corals, black corals, sea whips, colourful soft corals, sea fan, Neptune's cup sponges, blue sponges, nudibranch, xeno crabs, sawblade shrimp, rabbit fish, squirrel fish, barracuda, sea turtles, etc.
Know Before You Go
"HTMS Khram Wreck dive site requires Advanced Open Water Diver. "
Recommendation
"Stay over on Ko Lan for at least 1 night."