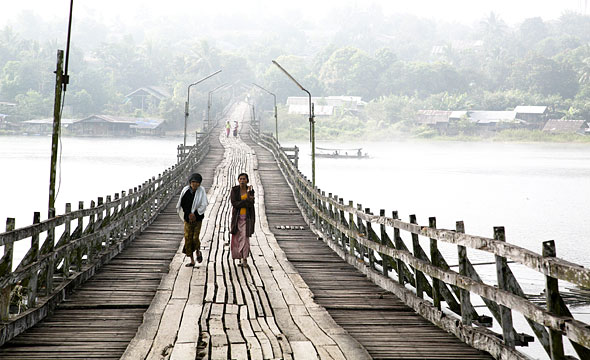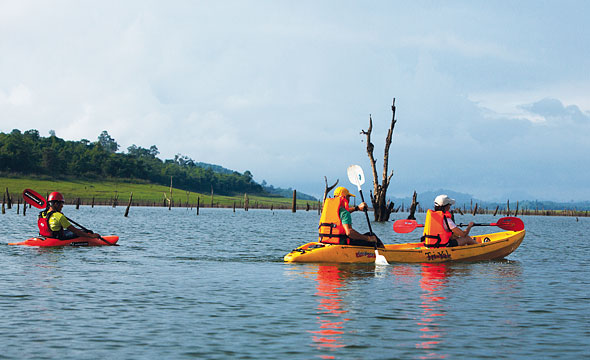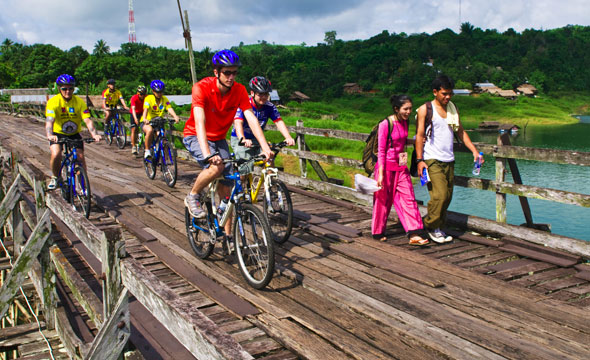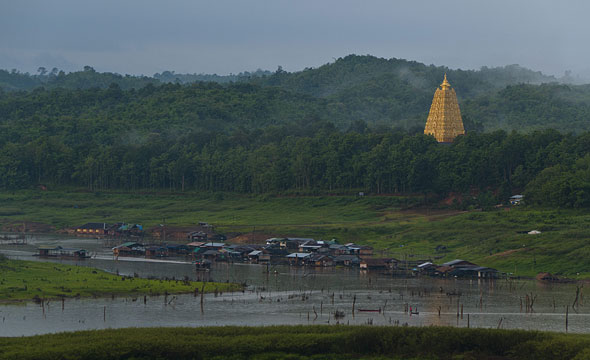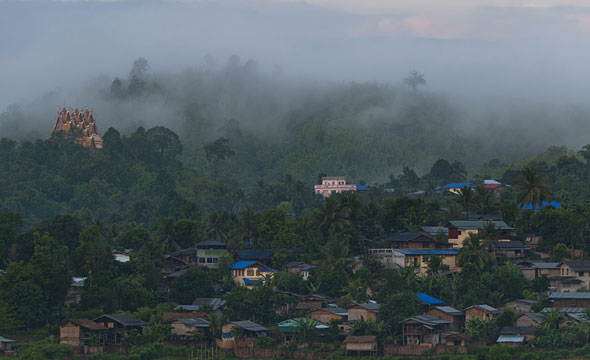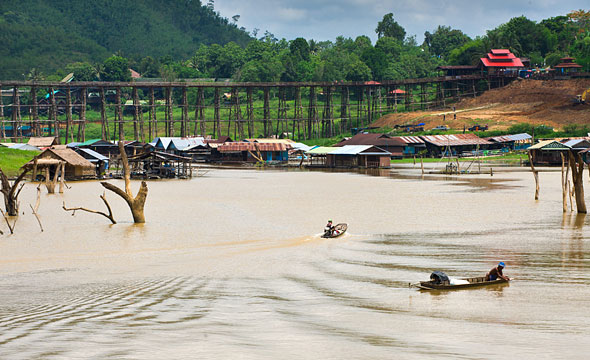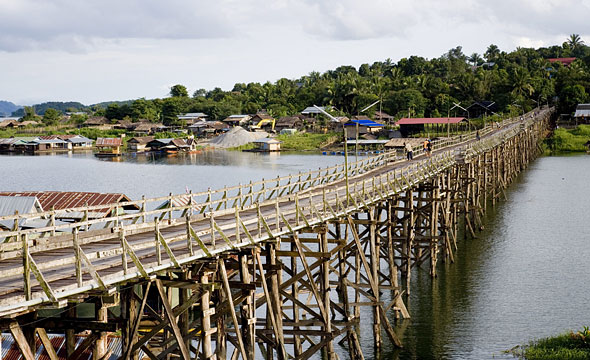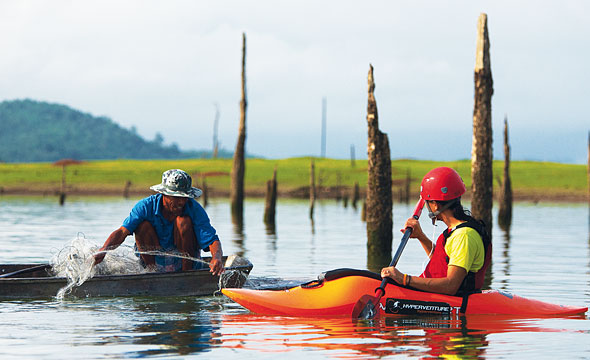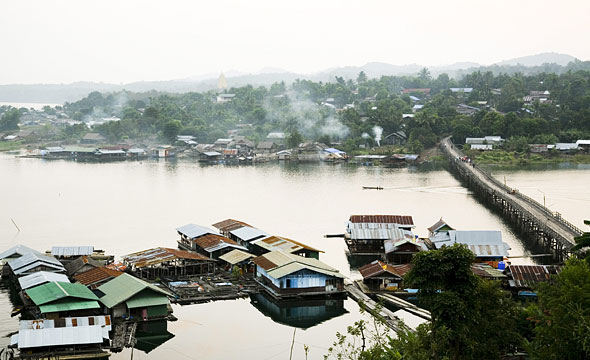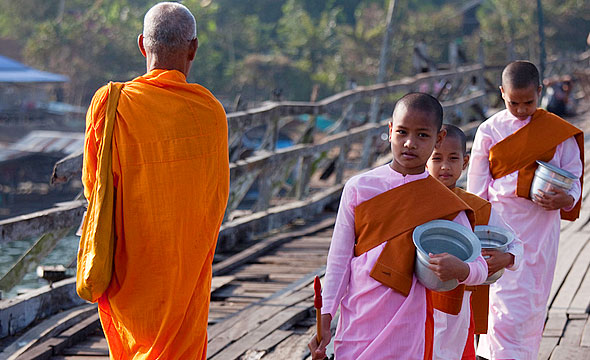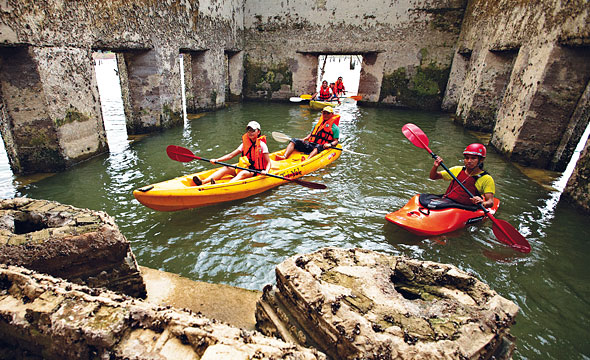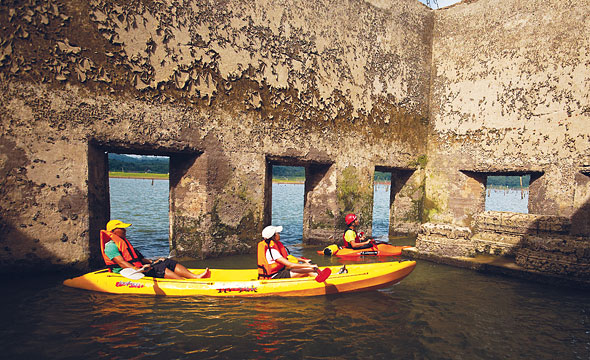 Kayaking from the Mon Bridge to Explore a Wonder of Unseen Thailand
Mon Bridge, Sangkhla Buri
Travel Info
From Kanchanaburi town, take a local bus (Kanchanaburi – Sangkhla Buri) following Highway 323 for 4 hours. The bus will drop you at Sangkhla Buri town, then you can walk or take a motorcycle service to the Mon Bridge.
GPS Location
N15° 8.767', E098° 27.014'
Facilities & Services
Long-tailed boat, kayak, coffee shop, toilet, restaurant, accommodation and parking
Wisiting Sangkhla Buri you should not miss going to put food offerings in a monk's alms bowl at the "Mon Bridge" in the morning while enjoying the view of "Sam Prasop" (a connecting area of 3 rivers; Song Kalia, Ranti, and Bikhli Rivers). It is the longest wooden bridge in Thailand constructed to connect the Sangkhla Buri community, Mon, and Karen people. Travellers can either take a long-tailed boat or kayak from the Mon Bridge to explore the sinking city. In 1984 when the "Vajiralongkorn Dam" (also known as the Khao Laem Dam) was completed, the original Sangkhla Buri area, including "Wat Wang Wiwekaram", was fully submerged by the vast amount of water held by the reservoir. Everything about the riverside invites you to sit back, relax and take time to enjoy your surroundings whilst appreciating a slower way of life that can be enjoyed. Not far from the underwater temple, you can disembark to visit the "Bhutthakhaya or Bodh Gaya Chedi" and pay respect at the site of a Buddhist relic.
Know Before You Go
"The Mon Bridge is also known as the "Uttamanusorn Bridge" as the construction of this Sangkhla Buri's landmark was led by "Father Uttama", a well respected Buddhist monk of the local people."
Recommendation
"You can rent a kayak from P. Guesthouse Resort."
Best Time to Travel
"The amount of water in the river depends on the annual rainfall in the area. If you are visiting right before the rainy season, the water level will be low enough for you to walk directly into the temple."