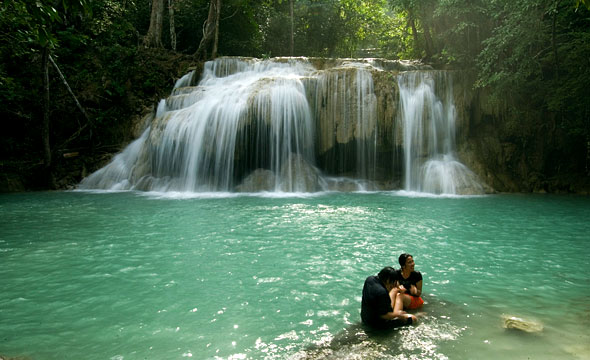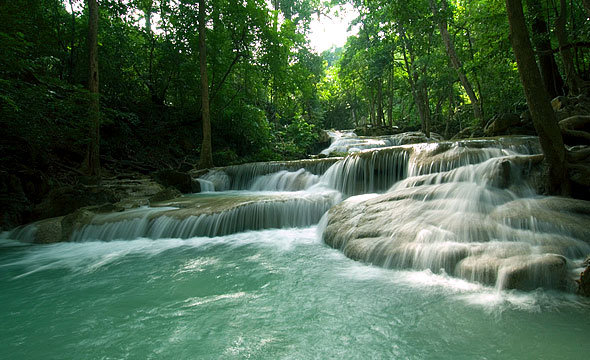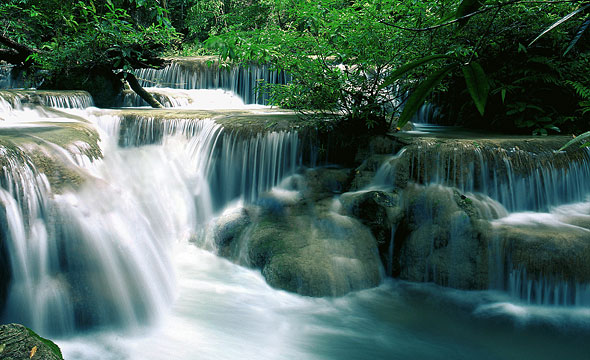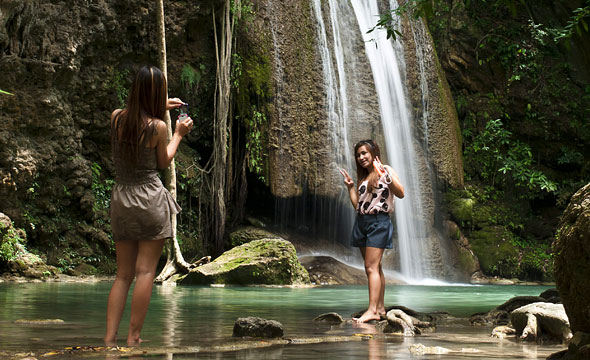 Take a Trek, Swim and View the Birds
Namtok Erawan
Travel Info
From Kanchanaburi town, take Highway 3199 for about 65 km and turn left at the Srinagarindra Market.
GPS Location
N14° 22.567', E99° 8.638'
Contact
Erawan National Park


+66 3447 4222
+66 3457 4234
Facilities & Services
Accommodation, tent camping sites, restroom, restaurant and parking.
One of the most beautiful cascades in Kanchanaburi; it is a large 7-level limestone waterfall where the light water that reflects off the water in the natural pool in varies from sapphire blue to emerald green, due to its high level of calcium carbonate. Each level of the waterfall is beautifully shaded by differing varieties of plant life with a motion of the water that splashes onto the rocks and flows into the basins below. Forest birds sing a duet with the sounds of the waterfall, creating a very refreshing atmosphere. When you arrive, do not miss the waterfall's highest level. The water from the falls takes on an image similar to Erawan (the three-headed elephant of the God Indra) which gives the waterfall its name.
There are two trails to take in exploring the waterfall. The normal trail has a total distance of 1 km which takes about one and a half hours to complete without the need of a guide. The alternative 2-km route can be taken by contacting the Erawan National Park's officials beforehand and asking them to prepare a trail for studying the natural wildlife and plant life up to the top of the falls. It takes about 3 hours to complete and more suitable for the tourist that likes adventure and excitement as the trail is quite difficult and steep.
Know Before You Go
"Any time of year is good, but November to February is especially atmospheric. Open daily from 8:30 a.m. to 4:30 p.m. Take about a 3-hour drive from Bangkok."
Recommendation
"Bring a change of clothing in case you change your mind to swim. Some levels of the waterfall are filled with numerous tiny fish that nibble your feet when you dangle them – A natural fish spa! "
Please
"Do not bring glass bottles, guitars, pets and alcoholic beverages into the National Park. "