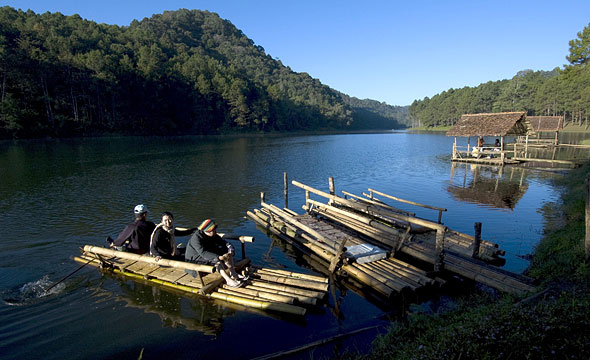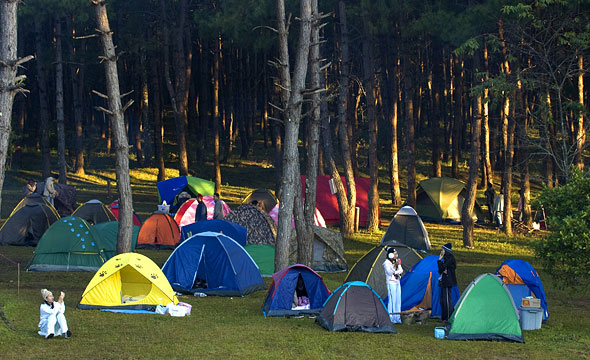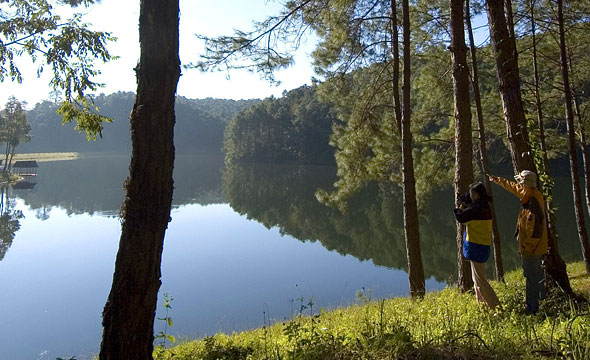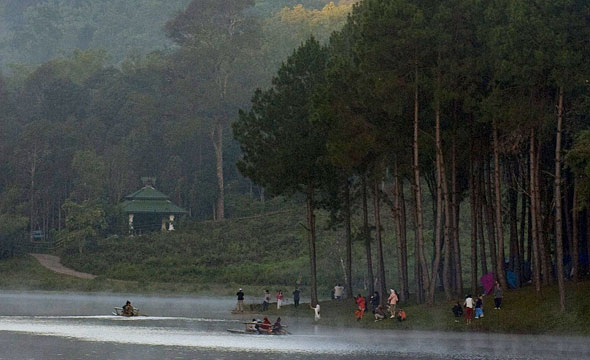 Hiking through the Forest, Pass through a Sea of Mist, Inhale the Scent of Nature on Mountains
Pang Ung
Travel Info
From Mae Hong Son town, take Highway 108 (Mae Hong Son-Pang Mapha-Pai) for about 10 km. and take a left turn following to sign "Ban Ruam Thai" until you reach Pang Ung.
GPS Location
N19° 29.877', E97° 54.625'
Contact
TAT Mae Hong Son Office


+66 5361 2982
Pang Tong Royal Project


+668 7661 8594
Facilities & Services
Accommodation, tent camping sites, restaurant, grocery shop and parking.
Pang-Ung is officially called "The Royal Forest Project at Pang Tong 2 (Pang-Ung)" which has a forest of pine trees surrounding a large water reservoir. The atmosphere is charmingly quiet, especially during the winter mornings during the months of December to January. People would be longing to watch the morning's first light when the mist is completely built up. If you are lucky enough, you might get a chance to see black swans come out to play with the morning sun in the middle of the lake. These swans were given by Her Majesty the Queen. It would be a very special experience that you should come and feel for yourself.
Moreover, bamboo rafts can be rented from the local villagers around the reservoir. Riding a horse around the area would be another interesting option, plus, paying for these ways of transportation would help make a better living for the locals.
For those who like to go hiking in the forest, there is also a trekking path towards Nam Yot Cliff. The path would lead you past seedling fields and walk along the border of the reservoir until you get to the top of Nam Yot Cliff. This is considered to be one of the highlights of this place. Beautiful wild flowers grow along the path. If you have some more time to spend before leaving, it is highly recommended for you to visit the Pang Tong Palace, at the Royal Forest Project. Experience a pleasant and peaceful atmosphere. Watch the herd of sheep, horses and the wildlife breeding station. There is also a nursery for winter plants, which has both Thai and imported species.
Know Before You Go
"People who would like to come and stay overnight during August to January would have to make reservations in advance at the Mae Hong Son Arts and Crafts Centre (Tel. +66 53 611244) You would also have to get a permission card from the Centre before you enter Pang Ung, whether you are sleeping in a tent or a room at the hotel. If you bring your own tent, then you would have to pay a maintenance fee of 100 Baht."
Recommendation
"The road leading to
Pang Ung is windy and narrow with sharp curves, and sometimes fog would become another obstacle. Extreme caution is required. It is highly recommended to travel during the afternoon. You should prepare your batteries as electricity is generated from 6.00-10.00 p.m."
Please
"Do not make loud noises, whether it is from musical instruments or any type of sound system."