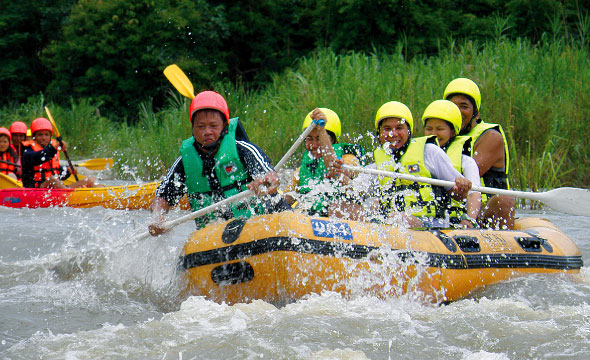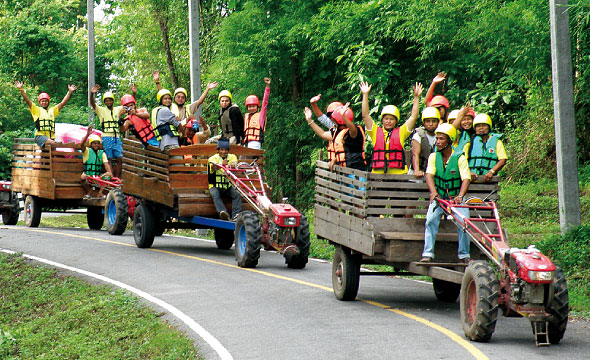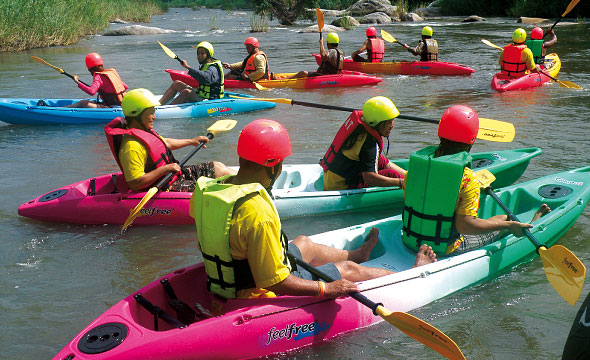 The Adventurous Trail in Nakhon Sawan
Mae Rewa Creek
Travel Info
From Nakhon Sawan, take Highway 1072 (Nakhon Sawan –Lat Yao–Klong Lan) and continue on Highway 1117 (Khlong Lan – Umphang). The entrance to the Mae Wong National Park is at the Km. 65th marker.
GPS Location
N15° 55.313', E99° 19.312'
Contact
Mae Rewa Eco & Adventure Club


+66 5623 4604
TAT UThai Thani Office


+66 5651 4982
Fuji Tours


+66 2918 6067 to 8
www.fujitours.co.th
Facilities & Services
Tour guide, boat, accommodation, camp sites, restrooms and parking.
The Mae Rewa Creek flows from Doi Mokochu, the highest mountain of the western forest. It flows through luscious forests and has clean, clear water year-round. The creek is very winding and flows through many rapids. The rocks of the rapids are not very high, so inflatable rafts and canoes are suitable for travel. Mae Wong National Park has developed the creek into an adventure tourism destination. The length of the white-water route is about 8 km. The adventure begins about 5 km into the forest. You start off riding a bicycle or walking on a trail studying the nature along the way. You can also catch a ride a tractor hitch provided and operated by the locals that they use as another means of income.
Embarking the raft is done at a point where the water is calm. After the first bend in the creek, the adventure on the rapids will begin. The difficulty of the rapids is at Level 2-3. Kayaking here is very enjoyable because during some parts of the creek splits into multiple paths like a labyrinth. Also, the scenery on both sides is beautiful.
You will pass the "Mo I Huet" scenic rest area that is located on a mountaintop on your right hand side. The entire white-water adventure takes about 1.5 hours then you reach "Kaeng Lan Nok Yung" that marks the end of your journey. It is a very challenging area because of the multiple levels similar to small waterfalls and narrow passageways. The water also flows violently. People who can pass through in kayaks without flipping over are considered masters.
Know Before You Go
"During the November to August period, the water level is very low making it suitable for only kayaks."
Recommendation
"After you get through the rapids, you can enjoy splashing in the water at the rocky bed and have the water massage your body."