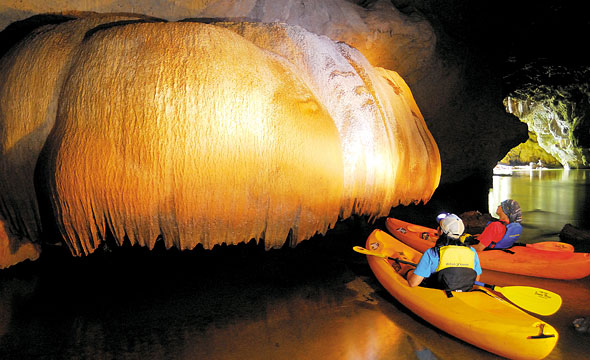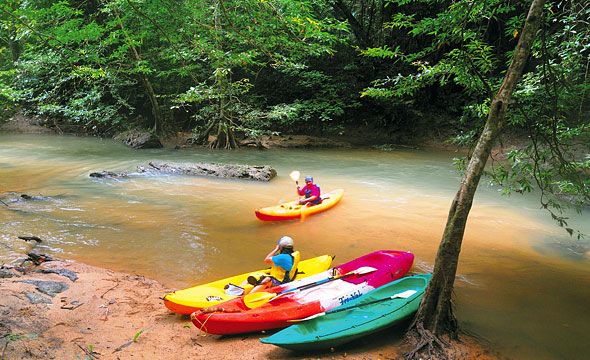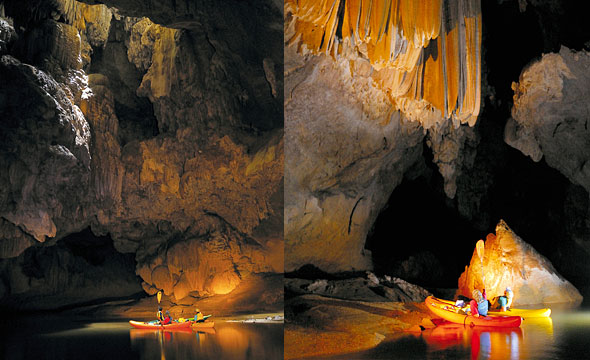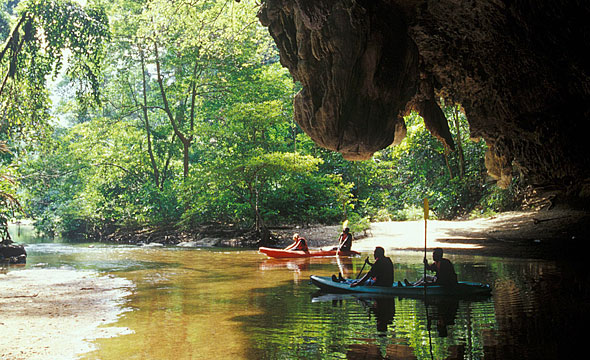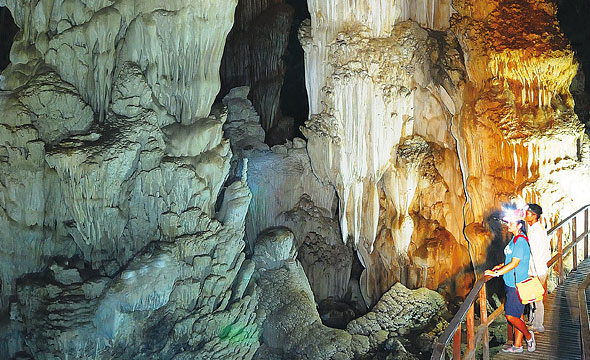 A Thrilling Boat Ride through the Backbone of a Dragon
Chet Khot Cave
Travel Info
From Satun town, take Highway 406 and continue on Highway 416. Turn right to Wang Sai Thong Waterfall and Phu Pha Phet Cave. Then turn left at the junction before reaching the Phu Pha Phet Cave following the signs "Chet Khot Cave". The total distance is around 70 km.
GPS Location
N6° 51.792', E100° 01.017'
Contact
TAT Trang Office


+66 7521 5867
Facilities & Services
Guide, kayak, torch, restroom and parking lot .
Satun is not only a place of seas Once in your life, just visit "Tham Chet Khot" or "Satta Khuha Cave" (Chet or Satta in Thai means Seven). Here, you will experience the wonderful nature where a curved cave is located through the big mountains. The stream flows inside the cave and there are seven curves as implied by the cave's name. Tourists can row a kayak in the cave and observe the stalagmites and stalactites hidden in the dark by using a flashlight or spotlight to lead the way. It is quite silent in some areas, and there is the sound of a flowing stream and conversation of tourists in some areas. The stream is 600 m long with different depths and atmosphere. What surprises tourists most is the flocks of bats on the cave roof. They look like a group of minor planets in the distant sky. Moreover, there is diamond-like glazing sand on the ground at the curve. At the exit, the 30 m x 15 m cavity with the sandy ridge is awaiting. Outside the cave, the forests are very beautifully green when they are reflected in the stream.
Know Before You Go
"Open daily from 9.00 a.m. to 4.00 p.m."
Recommendation
"The best time to explore the cave is during noon as the sun shines through the cave mouth and lights up the water."