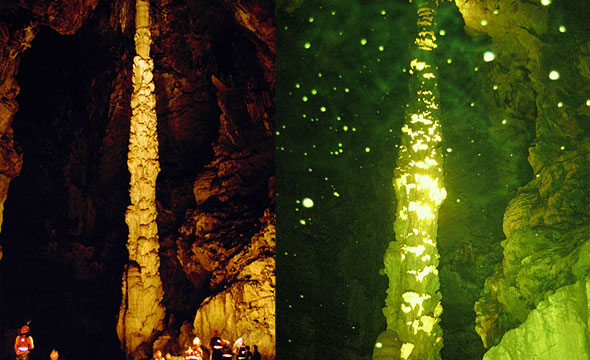 The Most Thrilling Adventure. The Ultimate Spelunking.
Tham Sao Hin
Travel Info
Located in Lam Khlong Ngu National Park. Take Route 323 (Thong Pha Phum Sangkhla Buri) and turn right at the Km. 26 marker (Phuttho T-junction). Go pass Thung Nang Khruan Waterfall and continue toward Ban Huai Suea. You will pass Ban Khao Phra In and turn left onto a dirt road. After 3 km. you will reach the parking area. Then it is a 30-minute walk to the destination.
GPS Location
N14° 54.347', E98° 43.857'
Contact
TAT Kanchanaburi Office


+66 3451 1200
Lam Khlong Ngu National Park


+66 8491 32381
Facilities & Services
Guide, rental life vest, food, accommodation, camping site, restroom and parking.
Tham Hin (Stone Pillar Cave) is renowned to be the most unspoiled beautiful cave in Thailand. It has also been recorded in the Guinness Book of Records as containing the tallest cave pillar in the world. The pillar was created by the growth of stalactites and stalagmites that have slowly grown until they have fused together. The water dripping from the ceiling of the cave contains calcium and after the water falls to the cave floor and evaporates, it leaves calcium carbonate behind which slowly grows into stalagmites. At the same time, water from the ceiling also evaporates to leave dissolved calcium behind in deposits on the ceiling that slowly grows into stalactites. After thousands of years, the stalagmites and stalactites grow larger and longer until they meet and merge into a pillar. At 62.5 m, it clearly beats the old record holder a pillar in China with a height of 33 m. The pillar has survived various natural disasters; such as, earthquakes, floods, and time numbering millions of years to stand grandly today.
Another "greatness" known to the cave is the difficulty in accessing it. It is very suitable for adventurers because it involves trekking through jungle across 3 mountains, climbing 90-degree inclines, crossing a gushing stream in front of a waterfall to climb to the cave entrance, and pulling yourself by rope against the current for another 700 m within the cave. There are no decorations, lighting, or amenities of any type for the preservation of the cave.
Know Before You Go
"The cave is only open from March to May. You have to reserve beforehand because a guide is required. The stream within the cave is not suitable for drinking because it has many pollutants. The Park has life-preservers for rent. The exploration trail takes 7 hours."
Recommendation
"Bring gloves and flashlights (especially head-mounted ones). Clothing should be light, tight-fitting, and easy to dry. Diving wetsuits can also be used because they protect from cold and abrasions. Some caves have very sharp rocks. Parts of the cave will have pungent smells of guano, so a mask will help. Bring your drinking water, preferably mixed with electrolytes to help prevent cramps. Wear durable sneakers that have rubber soles."