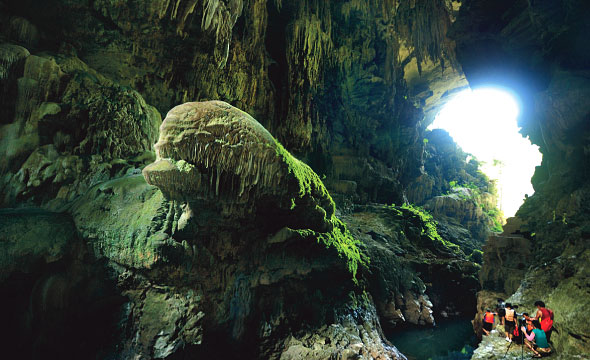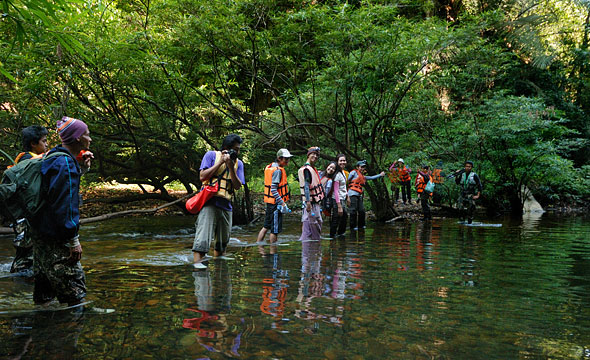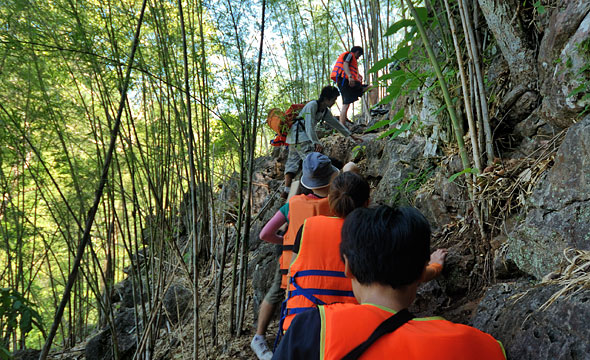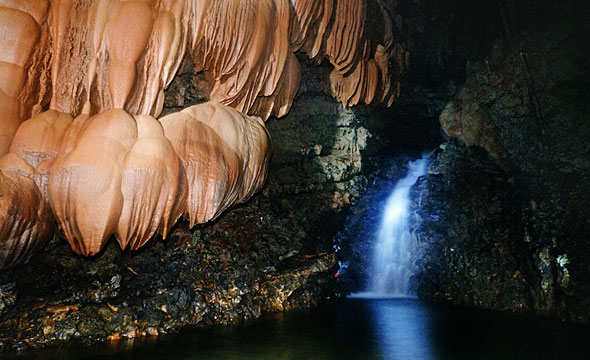 Cross Mountains, Float, Climb, and Explore Unimaginable Beautiful Stalactites
Tham Nok Nang Aen
Travel Info
Located in Lam Khlong Ngu National Park. Take Route 323 (Thong Pha Phum Sangkhla Buri) and turn right at the Km. 26 marker (Phuttho T-junction). Go pass Thung Nang Khruan Waterfall and continue toward Ban Huai Suea. You will pass Ban Khao Phra In and turn left onto a dirt road. After 3 km. you will reach the parking area. Then it is a 30-minute walk to the destination.
GPS Location
N14° 54.3471', E98° 43.8571'
Contact
TAT Kanchanaburi Office


+66 3451 1200
+66 3462 3691
Lam Khlong Ngu National Park


+66 8491 32381
Facilities & Services
Guide, rental life vest, food, accommodation, camping site, restroom and parking.
Tham Nok Nang Aen (or Swallow Cave) is another interesting place in Lam Khlong Ngu National Park that is worth your time. Part of the Khlong Ngu River flows through it. The water first flows underground before the cave's entrance only showing up again in the middle of the cave itself before disappearing underground again at the end of the cave. The length of the stream throughout the cave is about 3 km. Some parts of the cave ceiling have been eroded and collapsed to the floor of the cave in piles. A collapsed ceiling is called a Karst Window and there are a total of 6 in this cave. The spaces in the cave ceiling allow light to shine in, as well as provide ventilation. The size and beauty of the natural art inside the cave are indescribable. The spaciousness of the cave, large calcite-curtains on the walls, stalagmites and stalactites of various shapes and sizes are the works of nature formed after millions of years.
The cave is lit by the sunshine all throughout so there is no need for flashlight. However exploring the cave still imparts a sense of adventure and excitement because reaching the final Karst Window will require trekking through forest, crossing a fast-flowing stream, swimming, and rock-climbing.
Know Before You Go
"The exploration trail takes 7 hours. The cave is only open from March to May. The stream within the cave is not suitable for drinking because it has many pollutants."
Recommendation
" You must reserve beforehand because a guide is required."