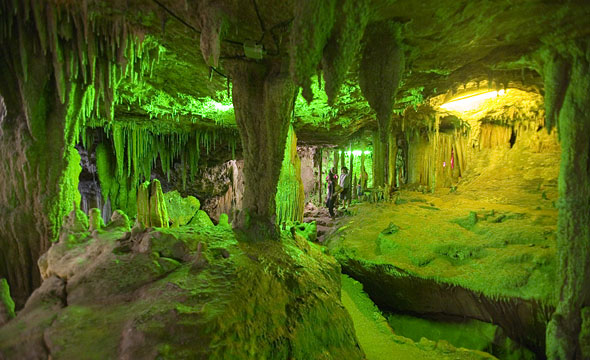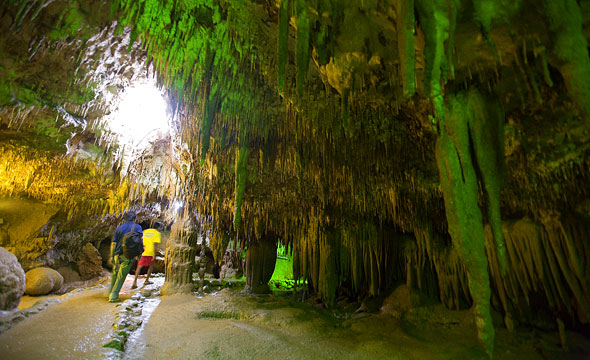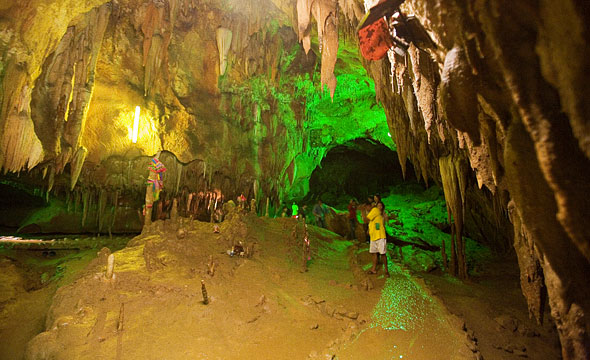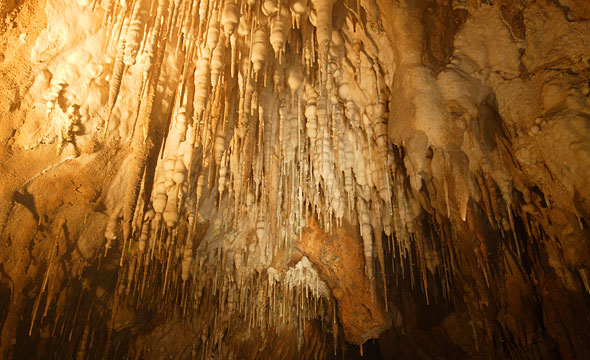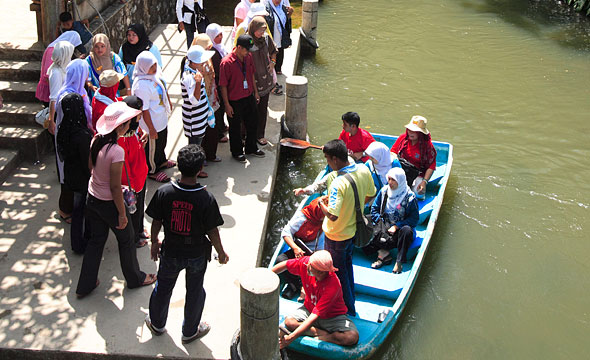 A Thrilling Boat Ride through the Backbone of a Dragon
Tham Le Khao Kop
Travel Info
From Trang town, take Highway 4 (Trang-Huai Yot-Wang Wiset). After passing Huai Yot district, turn left at the junction and continue on the road for 5 km. by following the signs of Tham Le Khao Kop.
GPS Location
N7°79.699', E99° 57.182'
Contact
Khao Kop Sub District Administration Organisation


+66 7550 0088
+66 7550 0117
TAT Trang Office


+66 7521 5867
+66 7521 1058
Facilities & Services
Tour guide, boat, walkway, light, toilet, parking lots.
An amazing natural wonder (Unseen Thailand), the main attraction at Khao Kop is this stream which flows through the cave. A canal from the Banthat Mountain Range is divided into 3 waterways upon reaching Khao Kop, with 2 going around the mountain and the other with a length of 800 m flowing through the cave under the mountain. In addition, the cave itself looks like a high and steep cliff with layers of rocks and stalactites and stalagmites magnificently decorating the cave for a distance of approximately 4 km.
The boat journey starts from the small river with lots of green on both sides. The next thing you know, your boat would have slowed down and facing you will be a tall, steep mountain that the waterway flows into. Once inside the cave the boat will dock at multiple places for you to walk around and view the beauty of the various stalactites and stalagmites. There are a total of 8 rooms in the cave; however, only 5 are open to tourists.
The highlight of Le Khao Kop Cave is when the ceiling of the cave is getting lower and lower. That area is known as "going under the dragon's belly". It is so low that everybody on the boat would have to lie down to get past. The ceiling of the cave will be less than a palm's width from your nose. The thrill of it has been known to cause people to scream. People who love thrills will not be disappointed.
Know Before You Go
"Each boat has a captain and an assistant. The captain will steer the boat while the assistant becomes the rudder at the back. As this was purely paddle power, there was no electrical or motorised activity at all making this a very eco-friendly place."
Please
"Do not touch the stalagmites and stalactites."