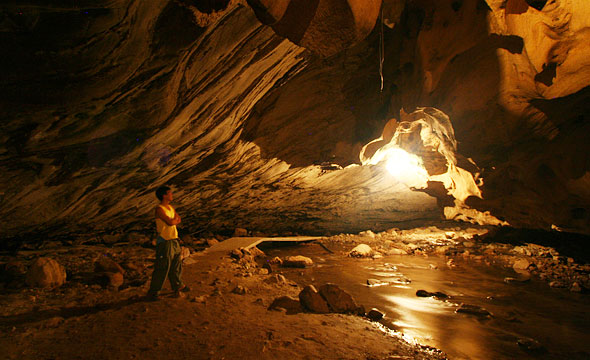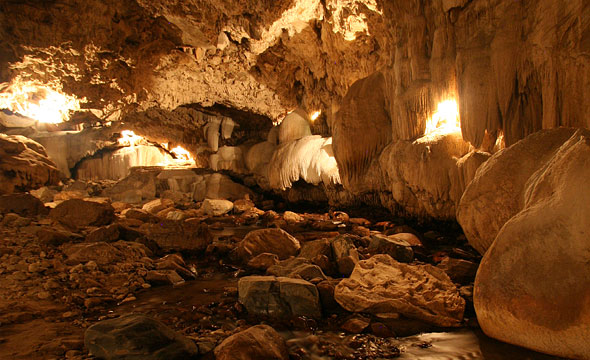 Trekking to explore the Underworld
Tham Than Lot
Travel Info
From Kanchanaburi city, take Highway 3199 and turn right to Highway 3086 and drive along for about 68 km to Nong Prue. Then turn left to Highway 3480 and drive straight all the way down for 22 km until you reach Chaloem Rattanakosin National Park.
GPS Location
N14° 39.83', E99° 18.82'
Contact
Chaloem Rattanakosin National Park


+66 3454 7020
+66 3451 9606
Facilities & Services
Restaurant, accommodation, parking, restroom and camping area.
Only 100 m away from the office of the National Park, you will reach the entrance of "Tham Than Lot Noi" where the stream flows through the cave at all times. Inside the cave, there are lights provided to help guide you along the pathway. Along the route, you will view a variety of strange-shaped stalagmites and stalactites. If you continue exploring further deep inside the cave, you will hear what sounds like the barking of dogs. This makes tourists curious why dogs stay here. Actually, it is the sound of Giant Jungle Toads (so called "Jong Krong" in Thai) – one of the world's rare animals.
When you arrive at the end of the route, you will discover the lush evergreen forest. From this point, you can walk further for around 2.5 km passing the pretty Namtok Trai Trueng and then you will reach Tham Than Lot Yai – a wide hole which has resulted from the erosion of water on limestone rocks over a long period of time. After all these years, it has become a larger hole which looks like an arched bridge. There are gaps for the sunlight to shine into the cave, and it is not surprising to see various types of plants inside the cave hall. Moreover, numerous remains of ancient human skeletons, pottery and utensils have been found here.
Know Before You Go
"Open daily from 8.30 a.m. to 4.00 p.m."
Recommend
"Besides the above information, there are many other interesting tourist attractions inside the National Park; such as, Namtok Than Thong, natural rock sliders, as well as a reservoir where you can swim and cool off."
Please
"Walk on the specified route only and no pets are allowed."