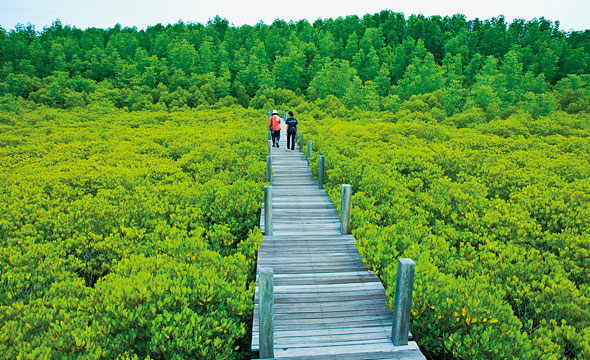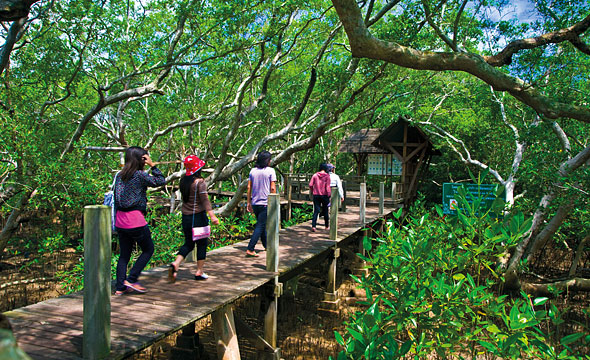 Canopy Walkway over the Golden Mangrove Field
Thung Prong Thong
Travel Info
From Rayong town, take Sukhumvit Road and enter Klaeng district for 60 km. At the Pak Nam Prasae Junction, turn right and continue for 15 km before you reach the destination.
GPS Location
N12° 42.741', E101° 42.167'
Contact
The Pak Nam Prasae Sub District Office


+66 3866 1720 to 1
TAT Rayong Office


+66 3865 5420 to 1
+66 3866 4585
Facilities & Services
Display boards of how ecosystem works, restroom and parking.
This 2,400-acre mangrove plantation is considered the largest in Rayong province. Not only is it an important supporter of the local livelihood through the fishing of crab, shrimp and fish, but also presently there has been development in the field of ecotourism of Pak Nam Prasae's natural areas. A one-kilometre long wooden walkway has been built in the mangrove forest allowing you to walk on the roof of the forest that has in turn become yellow and gold fields when lit by the warm sunshine. The view becomes especially beautiful in the morning or evening light.
In your walk, you will see many types of plants. Display boards have been put up for study of an ecosystem. At the end of the walkway is a pavilion that reaches out into the sea used for resting and relaxingly enjoying the view.
Moreover, it is also possible to adventure by renting a long-tailed boat at the entrance. A 20-minute ride will take you into the mangrove forest where you can see rare birds; such as, the Eastern Curlew, the River Tern, the Terek Sandpiper, the Bar-tailed Godwit, the Grey Plover, and more.
Please
"Dump garbage in the specified area."
Recommendation
"Take a cruise on the Prasae River at night to see the beautiful fireflies. If you have enough time, you should go to observe the way of life of the Pak Nam Prasae Community."