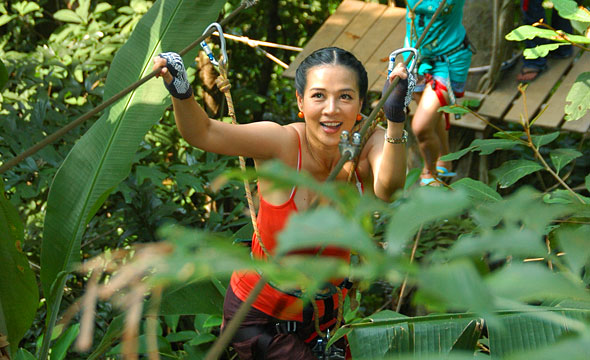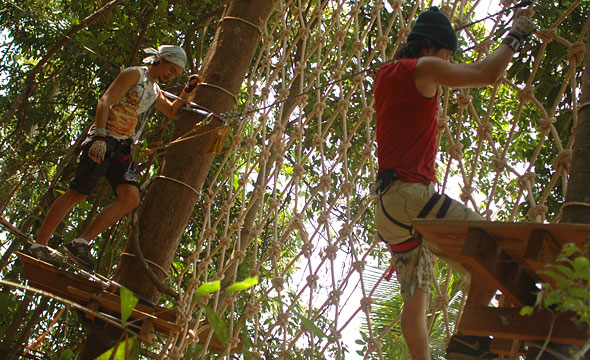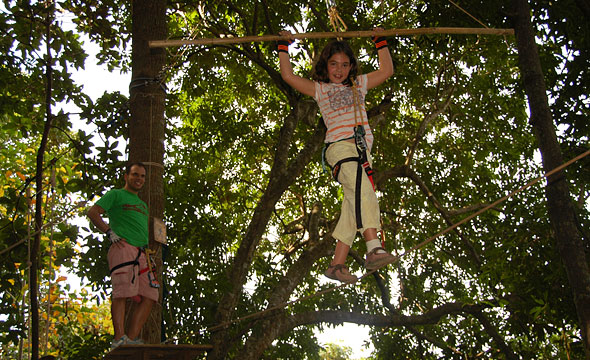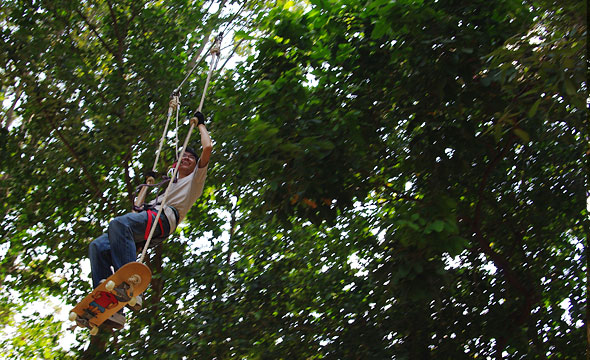 Paragliding along a Light Breeze and Viewing the Bend of the Watercourse
Tree Top Adventure Park, Ko Chang
Travel Info
You can catch a local bus or arrange the time to be picked up from the hotel with the Tree Top Adventure Team.
GPS Location
N11° 59.64', E102° 17.825'
Contact
Tree Top Adventure Park


+668 4310 7600
treetopadventurepark.com
Facilities & Services
Tour guide, parking, food and restroom.
For those without fear and love the feeling of adrenaline, then the "Tree Top Adventure Park" is the place for you. The two acres of greenery at the seashore near Bai Lan Bay has been transformed into a place to test the bravery inside of you with tree top adventures unlike any other place. There are more than 30 soul-stirring activities; swinging like Tarzan, crossing rope bridges, skating, climbing and gliding down a sling rope at the height of 20 m. The difficulty levels are ranged from easy to extremely difficult. Before playing in any of the stations, please pay attention to the staff's explanation and introduction on the steps and how to use the equipment, so we can have fun with the right procedures. The staff would be there for us throughout the whole activity, so you can be confident that it is 100% safe. Since we all know the rules, it is now time for some suspense. For those who are not daring enough, it is recommended that you should take the easy stations first; such as, climbing rope walls, crossing wooden bridges which are not too high. Then be prepared for the most daring station; swinging on a rope like Tarzan from one tree to another.
The most highlighted station is to glide down a metal sling at the height of a 7-storey building; about 20 m high and about 150 m long. This adventurous trip is more than just fun, but it is also considered to train your concentration, too. This place has no genre or age restrictions; all are welcome to join in the fun!
Know Before You Go
"First round in the morning starts from 9.00 – 12.00 a.m. and the second round starts from 2.00 – 5.00 p.m. Only a traveller taller than 140 cm is allowed to play."
Recommendation
"When you are in an activity, you should be conscious at all times to avoid mistakes that might get you into danger."
Please
Follow the guidelines for your own safety.