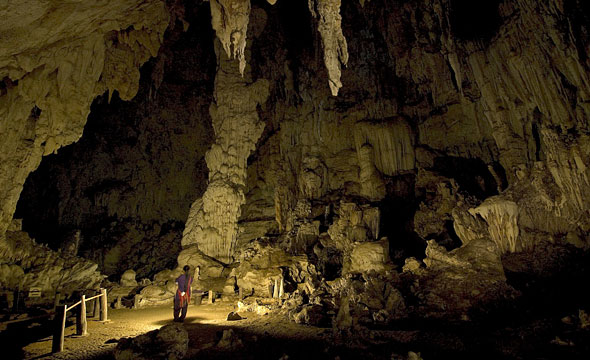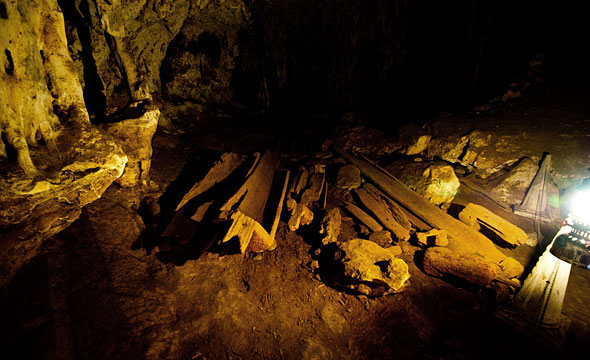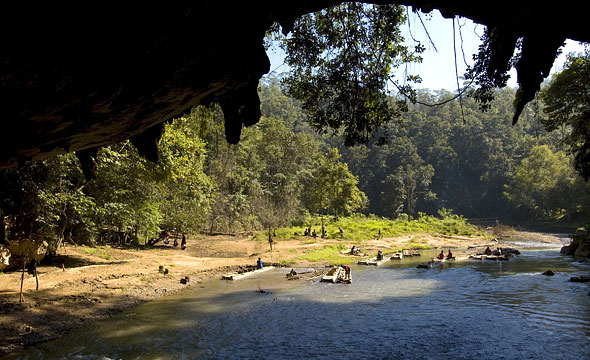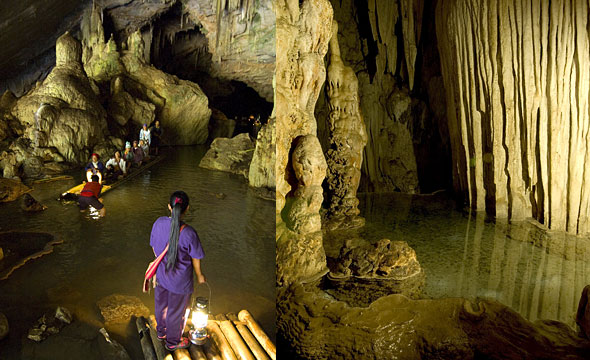 Kayak with a Green Heart, Visit the World-class Ecotourism
Tham Nam Lot
Travel Info
Around 77 km from Mae Hong Son city, drive along Highway1095 (Pang Mapha-Pai) until reaching at 138th – 139th km stone. There is a junction on the left side at Pang Mapha District. Follow the sign of
"Ban Tham Lot" for another 9 km.
GPS Location
N19° 34.126', E98° 16.756'
Contact
Tham Nam Lot Nature and Wildlife Education Centre


+66 53 617 218
TAT Chiang Mai office


+66 5324 8604
+66 5324 8607
+66 5324 1466
Facilities & Services
Tour guide, paraffin lamps, bamboo raft, toilet and parking.
Tham Nam Lot is under the supervision of the Tham Nam Lot Nature and Wildlife Education Centre. There is a brook named "Nam Lang" flowing from the cave entrance to the very end of the main cave. Formed by a small stream running through a crack in the limestone surface for millions of years, there are three chambers in the cave: "Tham Sao Hin" (Stone Column Cave), "Tham Tukkata" (Doll Cave) and "Tham Phi Maen" (Ghost Cave). As it is quite dark inside the cave, local guides with paraffin lamps and a bamboo raft are on standby to take you in and out safely. From the entrance of the cave, you have to walk around 350 m, and then take a raft for a distance of 300 m to "Tham Sao Hin". Inside the cave, there are many interesting sights waiting for you to discover; such as,
a "Stalactites Curtain" which is named as "Emery".
This limestone structure is alike a white and reflective drapery which hangs in mid-air. Scientists call it "Calcite Crystals" occurring from the flow of underground water over many thousands of years. The highlight of this cave is the number of giant limestone columns, some of which are measuring up to 20 m high.
Next is "Tham Tukkata" that is just 80 m away by rafting. The exceptional stalagmites and stalactites look like dolls have been arranged on the floor of this cave. In addition, pictures painted by pre-historic humans have been discovered here.
Then we continue rafting for 450 m to the last cave "Tham Phi Maen" where many significant antiques aged more than 2,000 years are found; such as, earthenware, skeletons of ancient humans, stone equipment and the "Phi Maen" coffins. There are teakwood coffins used for burying ancient humans. Archaeologists believe that the buried bodies perhaps were bureaucratic soldiers because many precious treasures were also found in the coffins.
Know Before You Go
"The cave is open daily from 8.00 a.m. to 4.00 p.m. It is only open during these hours because there are no lights installed in the caves and it also helps to conserve the beautiful nature of these caves forever, as well as allow the local people volunteering to be a guide for tourists to make extra income. It takes around 2 hours to explore the cave. "
Please
"Do not touch the stalagmites and stalactites, rock paintings and antiques in the cave as they are very fragile."